My last blog for CSTonline (a response to Toby Miller's first blog of this academic year) talked about my experiences of moving to America and setting up a new life.  Whereas Toby hadn't quite got wired up for TV, I had, but that still didn't stop me bemoaning the loss of familiar UKTV and bellyaching about how difficult it was to negotiate the amount of channels available to me in the US.
'Spoilt brat' some might say.  Particularly when I moaned about having too much TV to watch:
Even for a TV scholar the dizzying array of channels and series is just too much. if I discount all of the channels that are full of adverts and rubbish TV (probably all 1,000 of them), there is still too much TV.
It's amazing how quickly one's perspective can change.
When I moved into my new apartment I was immediately charmed by the Charmed-ness of it, particularly the attic with turrets where I imagined I would channel the magic of the Halliwell sisters (Charmed, WB, 1998-2006).  Although I only have the top half of the house (and, with only one of me, sorely lacking the power of 3), like most American houses, there is a cellar that houses the washer/dryer as well as all kinds of imagined horrors lurking in the shadows.
I never imagined that going down to that cellar would actually involve proper horror, a real bump in the night, as I learned that wet shoes and painted stairs don't mix. Mindhunter's Wendy Carr (Anna Torv) may sashay down to her cellar with a glass of wine in one hand and tin of tuna in the other, but a wet Sunday afternoon and no rubber stair-grips saw me tumbling down with no such sophistication.  It is fair to say that the horror in my cellar was less of a Woogyman (Charmed, 'Is there a Woogy in the House', 1:15) and more of a 'Something Wicca This Way Goes' (7:22).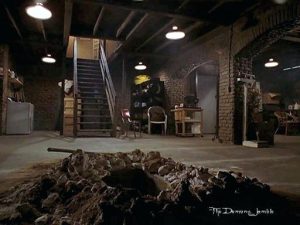 Suffice to say, a week later, and with no Whitelighter in the house, I was actually taken to the E.R. by ambulance.  Of course, this wasn't ER (NBC, 1994-2009), the series.  There were no George Clooney lookalikes and Carrie Weaver was nowhere to be seen (and, of course, this is South New Jersey and not Chicago).  In addition, no-one stood by my stretcher holding my hand with a concerned look asking how I got there.  I did have to fill out forms and pay a $100 co-pay before I could be treated but, on the plus side, there was a TV in every room.
For me TV is a panacea for all ills.  Stressed?  Turn on Eastenders.  Bored?  Friends will fill the void.  Worried?  The latest box-set will distract.  And, ill, sick or in pain?  Binge-watch whatever Reality TV series is on scheduled TV.
For example, when I was sick in 2015 – after 'Nearly Working Myself to Death' – I spent an inordinate amount of time watching The Real Housewives (2006-) franchise.  My perfect time of day and favourite Housewives of all was 5pm and Beverly Hills (Bravo, 2010-), their glamour and glitz perfect fodder for my post-hospital malaise.
So, imagine my delight when I discovered that I could not only watch TV in my room but in any room in the hospital – even waiting for surgery.  Of course, this being America, all rooms are private and all TVs free of charge.  Without any reading material, or the ability to read, I soon found myself flicking through the very channels that I had disparaged only a week or so before.
MTV continues to serve up delights in the form of Catfish (2012-), a Reality TV show that investigates the 'truths' of online dating and Teen Mom (2009-) which must be in its gazillionth season and is, for this viewer at least (particularly when incapable of thinking), totally compelling.
I managed to catch some documentaries on PBS – in particular one about surrogacy and one episode of Ken Burn's Country Music (2019) – and a few episodes of Discovery Channel's Expedition Unknown (2015-), a series presented by Josh Gates, the bouncy drama and archaeology graduate who, described as a 'super host', excitedly investigates the truth behind enigmatic mysteries and legends such as alien sightings, lost cities and buried treasures.
I have never been one to watch the Discovery Channel, I'm not even sure that we can get it in the UK, but this was the channel that dominated my viewing over the next few days and had me questioning my sanity — was it the drugs or was there really a series called Naked and Afraid? (Discovery Channel, 2013-).
According to the publicity blurb:
'Discovery Channel takes the ubiquitous survival show theme to the next level by stripping it to its bare essentials.'
No shit.
'In "Naked and Afraid," complete strangers — usually a man and a woman — meet in a very unique way: They're stranded in a dangerous, desolate location, without food or water, and they're completely naked.'
But why? And who would want to?
'Each episode follows the adventurers as they attempt to survive on their own with nothing but a personal item and the knowledge that the only prize is their pride and sense of accomplishment. Because there is no other choice, competitors quickly get to know one another — and their surroundings — and hope that their instincts, survival skills and intestinal fortitude serve them well.' (google Naked and Afraid)
Intestinal Fortitude?
As I watched this series on a loop (it is literally on back-to-back during the day on the Discovery channel) I feared that the pain medication had totally taken over my mind.  Intestinal fortitude aside how can contestants survive on so little food and water and be bitten in places that you never imagined possible and by bugs you never even knew existed?
And all voluntarily….
I was a totally captive audience ….
Week by week contestants line up to prove their survival capacities.  Whether it is a 14 or 21 day challenge, the trick is to work as a team, if one person drops out the other has to face the rest of the challenge alone – enough to send even the most determined survivalist bat shit crazy.  Faced with snakes, spiders, tropical rainstorms, intense heat, the worst kind of bugs and wild animals (depending on where they are dropped), the contestants' fortitude is incredible (intestinal or not), as is their willingness to go naked into the wild, with a stranger, in the first place.  And, as if it can't get any worse, the final hurdle is a long trek to the 'point of extraction' where, weak from hunger, dehydrated and eaten alive by bugs, the contestants have to hike (usually uphill) to a point on a map where they are 'extracted' by boat, plane, helicopter or Land Rover.  And, as if that is not enough, only the fittest and most determined will emerge without being humiliated in the final ordeal: being judged on their PSR (Primitive Survival Rating) which is based on a calculation of their predicted ability to survive compared to their actual skills, expertise and mental strength.
Other Reality series of the same ilk – Survivor (CBS, 2000-) or SAS: Who Dares Wins? (Channel 4, 2015-) or indeed any series with Bear Ghryls – pale into insignificance compared to the challenges of Naked and Afraid.  And, even if, as some claim, the extremes of 'danger' faced by contestants, are not particularly authentic with some suggesting that the biggest danger of the series is how seriously it takes itself, the challenges facing the participants are huge.  The question remains: Why would anyone want to take part in this series?  And what does my avid viewership tell me about myself?
After my last hospital visit and my addiction to The Real Housewives franchise, I didn't watch the series again.  At least not until I was ill (which leads me to believe that if I am watching The Real Housewives, I must be ill).  True to type, on my first day out of hospital I watched a couple of episodes of Naked and Afraid but it didn't hold the same allure.  Two weeks on from my American hospital experience I am puzzling over how a show that gripped me to the point of compulsion is not even on my radar anymore.
I am aware that this blog comes a week after Kenneth Longden's fascinating look at Factual TV as an area of study and, while his piece is full of wonderful research into the area, mine only contains the fevered observations of one viewer from her hospital bed.  But my experience does lead me to ponder on what my frenzied sick bed viewing of these forms of TV reveal about my use of television?  And how can my critical objectivity and knowledge of the staged nature of Reality television be so easily pushed aside when I am sick?
My question is this – what can research into Factual TV reveal about different kinds of TV viewership?
As I said at the beginning of this blog, I use TV to distract, entertain and educate, I love Reality TV as much as I love any other form of television (yep, I just love television) but I wonder if there is any research out there that studies particular forms of consumption?  Not 'audience studies' per se (although they are valuable) but how one audience member consumes TV for different moods and to a variety of ends?
Part of me is fascinated by this area of TV and the possibility of researching theories of spectatorship that are, as yet, unknown to me.  And yet, there's another part of my psyche that wants to keep one area of my television viewing discrete from my day job.  And I am sure there are many scholars out there that can give me answers to my questions without me having to delve into an area of research about which I know very little.
There's one thing I do know for sure: if I am ever unlucky enough to have another hospital visit, I hope that it's in a room with wall-to-wall Reality TV and many, as yet, undiscovered series to keep me entertained.
Postscript:  I am so over my antipathy towards American scheduled TV.  It may not be British but it contains some corkers and it has got me through some difficult times.  I'm pretty sure I'll be blogging about them in the not too distant future.
---
Kim Akass is Professor of Radio, Television and Film at Rowan University. She is co-founding editor of Critical Studies in Television: The International Journal of Television Studies, co-series editor of 'The Reading Contemporary TV' series for I.B. Tauris (now Bloomsbury Academic) and is managing editor of CSTonline. She is currently completing her monograph: From Here to Maternity: Representations of Motherhood in the Media and is on the mend after her old lady slip down the cellar stairs.