Summer in New Zealand has been particularly crap so far this year (storms and flooding), so my beloved and I had to travel to the Pacific Island nation of Samoa, in search of sun, some four hours on a plane heading north into the Pacific. I also had another purpose: a significant birthday fell on January 9th and I wanted to be Where Nobody Knew My Name.
I thought I might also take the opportunity to observe and write about television in another place. But it didn't work out for I didn't get to see much television in Samoa. The greater imperative was deciding whether to swim in the tea-warm sea or the cooler resort pool, or what delicious tropical beverage to order next.
I caught occasional glimpses of Samoan television (several privately-owned channels offer a mix of local, New Zealand and Australian programming) as we travelled at night, passing many fales (open-walled houses) where privacy was not a priority and 42 inch colour screens flickered in the corner. I also caught a rather excruciating Asian soap opera (with Kiwi-accented dubbing) which was the sole entertainment on the Queen of Samoa II ferry which carried us between Upolu (the most populous island) and Savai'i (The Big Island).
So, I had to seek another topic for this blog. I took two big books to read in Samoa: Bruce Springsteen's Born To Run (Simon & Schuster, 2016) and David Thomson's Television: A Biography (Thames & Hudson, 2016). Both were rather weighty and involved some delicate balancing on a sun-burnt stomach. Springsteen provided candid insights into his life and music but his book could have done with an interventionist editor and a prohibition on the use of the upper case. (You don't need to shout, Bruce!).
Michael Ondaatje declares Thomson to be 'the best writer on film in our time' but is he deserving of such praise when writes about television? There really hasn't been a good, broadly-focused book of television for some years, since scholars such as Fiske, Hartley and Buckingham ceased producing books. I think that Thomson has filled this hole, with a wonderfully well-written and quite delightful book.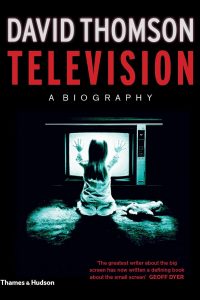 It draws on Thomson's life-time engagement with the medium, dating from watching grainy images of the 1954 Coronation on his grannie's set to his more recent binge viewing of Breaking Bad. Thus the justification for the 'biography' subtitle but Thomson also ranges across a broad history of television (with equal weight given to the British and American histories), keen analysis of key texts (I Love Lucy, M*A*S*H, Cathy Come Home, The Cosby Show and many more), speculations about the nature of viewing, and sharp but fair analysis of the conceits and deceits of the medium, in a mix of optimism and pessimism. He declares 'the deepest nature of television is to be reassuring. That may be the most frightening thing about it' (13)
He is also prescient about the rise of Trump as a creature of television and how we have been 'unable to subdue him with reasoned criticism, humour and judgement that we think are expected of us' (284).
The book is loosely organised into a focus on important genres (`TV news, cop shows, documentary, long-form drama) and although there are moments when I could have taken issue with some of Thomson's judgements, I was largely disarmed by the inventiveness and skill of his writing. Writing about Hill Street Blues as 'the harbinger of cable' (191), for example, Thomson poses the question 'I watched it with pleasure; I regretted missing an episode. But do we want to see it again?' (191). We could possibly raise similar questions about the return of old programmes such as Full House and Twin Peaks, in these days where much television drama has taken a turn towards more grown-up fare? But Thomson asks 'is there time left for us to grow up?' (285)
I do recommend Television: A Biography without reservation. It is beautifully written, provocative, and often quite thrilling. You could even call it a page-turner, for there is an added pleasure in the full-colour illustrations sprinkled through the book.
Geoff Lealand is Associate Professor in Screen and Media Studies, University of Waikato, New Zealand, where he teaches and writes about world cinema, television, children and media, and media education. You can check out his current research activities HERE.  A yet to be fulfilled ambition is to watch all episodes of The Wire. He has been writing various pieces based on his research on Shirley Temple 'double' contests held in New Zealand in the 1930s;  most recently including these investigations of cultural memory and fandom into his contribution on the child star in the Routledge Companion to Global Popular Culture, edited by  fellow-CST contributor Toby Miller.