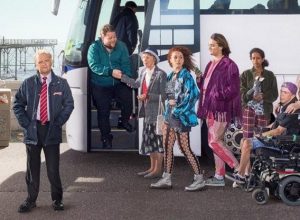 How to write about a television programme that you love and that has even moved you to tears? Many years of teaching Film and TV have not really prepared me for this. In the eighties, when I first started teaching, we were largely in the grip of the Screen journal pleasure is suspicious era. (Indeed at PCL it was pretty much required as a critical approach on the MA Film & TV Studies programme.) TV studies was liberating in this regard and indeed I taught a session every year on the pleasures of television viewing and got students to read John Corners' chapter on Pleasure in Critical Ideas in Television Studies (1999). Nonetheless, I still have some reticence at simply gushing here and telling you to watch this programme or you will miss out.  Just as I would work through in tutorials with students, when they wanted to write about a favourite programme, but couldn't think about how to get started, I too have considered what's the most interesting thing about it? Tried to focus on one vital aspect of the programme and then tie it back to critical theory that I know. Plus let's get the basics straight, transmission data, ratings, contemporary reviews and then academic publications. (if any). Here goes….
Don't Forget the Driver (Sister Pictures for BBC, 2019) is currently transmitted on BBC 2 on Tuesdays at 22.00. A slot reserved for minority comedy in recent years. It has had some popularity, launching on Tuesday 26th March with 1.3M live viewers. It is the first TV drama to be co-written by Toby Jones, which may or may not be significant. In a recent interview for the BBC website he talked about that influence when he was on set.
'You'd probably have to ask other people! But it's true, when you've been part of the writing team, you do have this strange relationship with every single scene whether you're in it or not. You're very well acquainted with the emotions that led to the scene, the story discussions that went into that scene and the other scenes that have been crushed down and the grains of which have become that scene… you're very aware of the history of each scene.' (Source: BBC)
Set in contemporary Bognor Regis, Toby Jones plays Peter a coach driver for a local company, Bassetts. He does all kinds of trips, but not school ones. ('It's in my contract'). At first sight it is tempting to see Peter as a retread of Jones' character, Lance, in The Detectorists (Channel X for BBC 4, 2014-17). See CST blog on the series, and indeed its pleasures, by Phil Wickham.
He is similarly quietly spoken with a family back story. But, in many ways Peter is a more developed character. There are more links to workplace, the community (perhaps reluctantly) and a brother who appears to be living the direct opposite of his own life in Australia. We first see him on Skype playing with his son by a back garden swimming pool whilst Peter struggles to find a lunch to pack. His daughter has eaten it the night before.
So far, so good, but what's different or indeed worthy of more analysis here? Right from the off, the series deploys almost Martin Parr like shots of the South Coast. Quirky angles, careful framing, long takes dictated by the action – often unfashionably determined by the time it takes the subject to leave the frame – and colourisation right out of Ektachrome 101. In other words, a very careful and intellectual approach to visual style is deployed. This is uncommon even in more recent Sit. Coms, but I've not seen it used at this level in Comedy Dramas. Except, perhaps in The Detectorists whose last scene was so beautifully shot and plotted out. A quick imdb.com check reveals that the cinematographer on Don't Forget the Driver, Jamie Cairney, also shot two series of the Detectorists, but not that final scene.
So, it looks good, it's got Toby Jones and it is occasionally very funny. But, that's not my interest here. It is the use of narrative structure rather than narrative themes which really distinguishes Don't Forget the Driver. It is easy to see its south coast location, and indeed specifically Bognor Regis, as a clear indication of its concerns being Brexit and the UKIP party, together with a faded Britain invoking nostalgia for the past. In fact little of this features. Asked in a Front Row Interview (R4, 2/4/2019) if that was what the series was about. Jones said,
'I think if you were to point a camera at any part of the United Kingdom at the moment and write a drama about it, it could be interpreted in terms of Brexit. .. Certainly, we dreamt up the premise of it long before Brexit was voted on. But, if you didn't put Brexit themes in your drama, you'd be saying something about Brexit….I think when you makes things particular, they tend to have a general resonance, eventually.'
And indeed he claims that the B word is never mentioned in the series. Actually, the focus is much broader being English (or performing Englishness, if you prefer), Immigration and identity together with a nod to family and community.   The key themes are summed up in the trailer for the series, or at least the effect they have on Peter's life.
In terms of narrative structure, Don't Forget the Driver makes use of a Flexinarrative form as discussed by Robin Nelson in his 1997 book, TV Drama in Transition. This is a form of narrative, perhaps the norm in TV Drama now, where some narrative strands are resolved each week, but there is a narrative arc spanning the series. Indeed in newer forms of long form drama – e.g. The Wire and The Sopranos as early examples – this spans several series and allows for reference back and forward to changing narrative details. Often is it assumed to be derived from continuing series or Soap narrative structures. In the case of D.F.T.D. the coach trips form the resolved narrative in each episode. Differing characters take different days out. These are amusing and contain several themes in themselves. The donkey sanctuary, the trip to Dunkirk for remembrance and shopping, the visit to a model village and wonderfully the school orchestra trip, of which more later. Each deploys particular themes, religious belief, respect for WW2 fallen soldiers, care of the disabled and so on. Given that there are 6 episodes, there are some limitations on the complexity of the long form narrative. But, it is here that the darker issues are discussed and actual solutions sought and found.
Glen Creeber (2004) makes a telling comment about why the lack of resolution or closure in narrative is important in more contemporary drama (Hard to place a date for contemporary TV drama, but one might roughly say 21st century).
'Nelson argues that the 'flexi-narrative' form better responds to and reveals the complexity, ambiguity and lack of closure that typifies the contemporary world. Implicitly opposed to single (or closed) narrative consistency, this 'flexi-narrative' structure tends to celebrate narrative indeterminacy, character density and thematic ambiguity.' Glen Creeber, Serial Television.
This is then argued to have an ideological property, especially in terms of British Social Realist drama and I would argue that in its subject matter and visual style D.F.T.D. is a close relative to the genre,
'Put crudely, traditional forms of British Social Realism (of the 'documentary' – influenced Cathy Come Home and Up the Junction type) tended to suggest that the problems in a character's life could be remedied by structural changes in society. In contrast, newer forms of realism have tended to reflect a less optimistic belief in the power of political and social change as a whole, forcing a shift towards narratives of a more 'psychological' rather than overtly 'political' nature.'
And it is here, that D.F.T.D. diverges very clearly from the Flexinarrative. Firstly because it does not deploy a very wide range of characters throughout the series (as a Soap Opera would), but secondly and more importantly I think, because it is optimistic whilst still suggesting that the solutions to societal problems lie not with political or other traditional structures but individual human agency. The latter point is not quite correct. It is not so much individuals as small groups in society. Here, sometimes linked by familial relations, but as the series progresses increasingly loose groups in a community.  Thus the Polish mechanic and coach cleaner, perhaps inevitably named Lech, solves some of the key problems besetting Peter. (Whether he is named after the beer or the Solidarity activist remains a moot point!)  Later it is several characters acting together who solve the central dilemma of the series. (I am desperately trying to avoid spoilers here since the series is still being transmitted as I write. The whole series is also available on iPlayer raising some interesting questions about its seriality and viewing contexts.)
This gives much of the series an Ealing Films flavour. Individual characters hold out for justice and make little, or no, call on the authorities. The police never appear in the series and it is clear that nobody thinks they would help the situation. Whilst this gives a nod to the effects of gang culture and coercion within England, the overall tone is optimistic, if often punctuated by moments of gloom. There is much that could be said about how this initially very stereotyped representation of English fair play and pluckiness evolves into a broader canvass of a greater variety of characters who don't fit that traditional view of England. The model village coach trip allows for a celebration of Englishness, whilst simultaneously critiquing it in a variety of ways. We steer close here to a Bill Bryson book at times, but quickly move on to a more complex view of the nation and its potential futures.
It is one of the final scenes in the series which moved me to tears. I'm not sure how one would tackle such an experience in terms of critical writing. The motivation for my reaction was part melodrama and part pathos, but the underlying themes of a group of schoolchildren playing Elgar's Nimrod theme as the bodies of unidentified migrants are buried are complex and I think the reason for its effect on me.  The children are taken to the cemetery by Peter having played their concert and misbehaved on the coach – his contract is ignored on this day. He suddenly has an idea for honouring these unknown dead who have washed up on Bognor beach. There is a parallel to the final scene of The Detectorists, the evocation of the English countryside, the resolution of the narrative and the deployment of visuals to complement this. In D.F.T.D. it is the action and the music alone which create the effect. It is one of the less artfully shot sequences of the series. Rightly so, since it links back to so many past victims of global trauma, war and abuse.
So, it is at the level of narrative structure that Don't Forget the Driver is a breakthrough comedy drama, I would argue. Which is not to deny the many other fine features it has, and indeed the very many themes and issues it discusses. (I have not mentioned the dementia storyline, for example). In such a short piece, I really have not done justice to either the look, the themes or the performances of the series – go see! Indeed, whether or not a sequel is commissioned, one worries that Toby Jones & Tim Crouch have put all their efforts and ideas into this work and left nothing for future scripts. It is a triumph of television drama and a testament to what independent television production can achieve and to the power of Public Broadcasting as a commissioning agency.
Toby Jones makes the point that Peter Green (surely not a chance allocation of a surname), has a duty of care that spreads out from his coach passengers whether he wants it to or not. Perhaps the words of another Polish Lech are pertinent here to the key theme of the series and the way that the narrative structure deployed explores it.
'The thing that lies at the foundation of positive change, the way I see it, is service to a fellow human being.' Lech Walesa
---
Tom Nicholls has recently retired after 35 years working in Education. Initially trained as a Photographer at Birmingham School of Photography his teaching and research interests gradually migrated to moving image, critical theory over the last twenty five years, teaching Film Studies and specialising in Television Studies more recently. He lives peacefully in rural Lincolnshire.