A long time ago, in a galaxy not so far away, Friday nights were (all too briefly) enlivened by a pair of young scamps with a penchant for critiquing popular culture, whether mounting toy-based parodies of contemporary film and television, utilising Star Wars figurines to skewer trash TV formats, or dispensing Vinyl Justice to the mad, bad and (occasionally) dangerous of rock 'n' pop.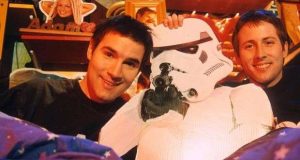 Adam Buxton and Joe Cornish began making comedy films after meeting at Westminster School, eventually leading to a presenting stint for the former on Takeover TV. Launched in the dark autumnal days of 1996, The Adam and Joe Show brought a much-needed sense of play to the late night schedules, playing fast and loose with the inanities of mainstream media. Think Darth Vader performing as Grace Jones on Stars in Their Eyes. Although the show ended in 2001, the four series are now available to view once more on All4, and I have spent the last week happily re-living one of the sillier pleasures of my twentysomething years.
For the unfamiliar, the format consisted of Adam and Joe sitting in their bedroom (a studio set, shown being assembled in the time-lapsed opening credits, only to be disassembled again at the close), offering their twisted take on popular trends of the day. While their chief ambition was to make the audience (and themselves) laugh, the results offered a master class in textual analysis, highlighting the largely downward trend taken by popular entertainment as we rattled towards the millennium. By turns hilarious and depressing, here is a whistle-stop tour of ten highlights. Please click on the links to view the clips:
Free Thinking: 'You're a bit fick, int ya?' If 15% of the Ribena carton is advertised as 'extra' and 'free', why should we pay to drink the rest of it? Simply consume the free amount in store, and then return the carton to the shelves. When Joe proceeds upon this perfectly logical premise (and one has to feel sorry for the shop owner), the result is the kind of consumer TV exposé that Angela Rippon, Gloria Hunniford and Julia Somerville wouldn't dirty their hands with.
Watch out for the amused yet inarticulate youth who condescendingly attempts to explain the error of Joe's ways.
Furends: 'I've completely lost control of my hands!' The Adam and Joe Show was broadcast by 4 on Friday nights, and so was Friends. My partner of the time very much enjoyed the latter; I did not. This furry toy parody (a segment that usually opened the show) demonstrates why. Adam and Joe don't simply ridicule the recurring tropes of the inexplicably popular uber-sitcom (one-dimensional characters, wafer-thin plots, obtrusive audience laughter, unnecessary gesticulation, a communal obsession with that hairdo…), they do so in slavish detail, right down to a minutely observed subversion of the series logo and ghastly Rembrandts theme song. Check out also the 'No Smirking' sign in Central Berk. Friends may seem an easy target now, but at the time few had dared speak out against this unstoppable juggernaut of mawkish flim-flam/.
I applauded this timely critique, while my partner sat unsmiling.
The Footie Song: 'When I go see Arsenal/I reckon they can pass 'n' all.' Like all people of taste, Adam and Joe know nothing of – and care little for – sport in general, which makes this impassioned paean to the beautiful game (conceived as a belated riposte to Baddiel and Skinner's far less amusing 'Three Lions') all the more entrancing. Working with friend Zac Sandler, the trio's brave grappling with unfamiliar territory results in some wonderfully tortured rhymes, and a genuinely infectious chorus, which I guarantee you will find yourself humming if you watch the clip. After all, which was more important in the 90s: how well the squad performed in the recording studio, or out on the pitch? 'World in Motion' got to number one, but England was kicked out of the World Cup in the semis.
This link leads to the extended mix, released in 2010 to coincide with some sort of tournament.
Room 4 Change: 'It's a rubbishy old table that's definitely seen better days, but with a few pence we can turn it into something that looks very expensive and very classy.' This one isn't even a parody, really; it does what Changing Rooms had already been doing since 1996, but with marginally less talented designers. Unlike Free Thinking, it is impossible to feel any sympathy for Tim, the callow member of the public who answered a fake newspaper ad for a new Channel 4 makeover show, and is clearly unwilling to voice any on-camera criticism of Adam and Joe's insultingly inept decorative efforts (including the latter's laughable attempt at a trompe l'oeil).
Ironically, Adam and Joe later teamed up with none other than Lawrence Llewellyn-Bowen to advertise Surf.
Chew Wants to Be a Millionaire: 'Is that your final answer? Sure? There's a lot of money riding on this one – are you totally confident? Absolutely positive?' The companion segment to the fluffy toy parodies was this equally well observed dissection of popular TV, re-imagined for no good reason to feature the cast of Star Wars. Ben Kenobi typically featured as an alcoholic vagrant, perpetually in search of 10p for a cup of tea. Part of the appeal for someone of my age and inclinations was the fact that these featured all the original Kenner/Palitoy figures for which I had saved up my pocket money in the 70s and 80s (why did we never get Grand Moff Tarkin? Hmm?), Adam and Joe's mouths cunningly superimposed over the plastic faces. The titles also featured incredibly weak puns, another passion of mine (see above). Here, another programming behemoth of the day is deconstructed and put back together all wrong, complete with host Chris Tyrant (the evil Emperor). Other case studies included The Crystal Maze, The Royle Family (re-imagined as The Imperial Family, with Jim played by Jabba the Hut) and This Morning with Richard and Judy (in which, interestingly, Han and Chewie are the celebrity spouses).
Apologies for the bad language, but that's what every Millionaire contestant must have been longing to say to Tarrant.
Vinyl Justice: 'Well, Mr Numan. Can you justify possession of 'Don't You Forget about Me' by Simple Minds? Not so easy, is it?' This was one of the few regular segments that did not deconstruct an existing format. Instead, uniformed officers Adam and Joe would break into the home of a pop star and riffle through their music collection until they found a criminal record (or a criminal CD, which doesn't work as well), and then force the celebrity owner to sing along and dance to the offending disc. Although each escapade was clearly set up in advance (and Adam has since revealed that the 'homes' depicted were not always the stars' own), outcomes were not easy to predict, Mark E. Smith of the Fall giving the boys a forceful slap and a kick before granting them access (luckily, they were wearing riot gear).
In this example, usually reserved synth poster boy Gary Numan giggles his way through the ritual humiliation; it's all rather sweet.
People Place: 'The show that goes wherever there's a place with people. In it.' A regular feature on the last series, People Place lays bare the mechanics of the worst kind of themed magazine show. Vacuous, ill-informed presenters – Lindsay 'What's in your bag?' Munk (Joe) and Nikki Boxx (Adam) – set about inundating everyday people with banal questions about their everyday lives, never giving them time to answer, before whisking them off to face various absurd challenges for which insufficient time is allowed. In their take on Supermarket Sweep, the contestant only manages to grab a single bottle of detergent. The entire segment is swept along by the same type of fast-cut montages, upbeat music and vox pops that characterise all manner of ludicrous daytime filler.
The later sequence in which Nikki determinedly ignores every piece of advice provided by a road safety expert ('So I should just cradle the mobile against my ear while driving, so no-one can see it? Great.') is the perfect exercise in oblivious daytime presenting.
Ken Korda Makes a Movie: 'The message is basically: Toyah Wilcox is go!' Adam's deluded alter ego, polymath Ken Korda, originally debuted on Takeover TV, where he provided advice to aspiring media practitioners. This is a compilation of series two minisodes in which he details the pitching, scripting, casting, production, editing and distribution of his classic indie flick, Speeding on the Needlebliss (1997). Easily the strongest of a slew of post-Lock, Stock… imitators, Needlebliss proved controversial due to its scenes of explicit sexual activity, violence, hardcore drug use, and authentic urban dialogue: 'The street's a knife, and you and me are dancing on the blade. We junk, and funk, and dance the fury boogie 'til we're speeding on the needlebliss.' Dismissed by the British Film Institute as 'poorly acted, embarrassingly scripted, and very self conscious', the film nevertheless attracted the interest of Carlton Film Distributors, who rated it 'a very strong piece of work' (seriously).
Had a link been available, I would also have included Korda's documentary on his attempt to form the ultimate teen band, 1471 (though you can listen to their almost-hit, 'Please Please Hold the Line'), which, in the wan light of Pop Idol, X-Factor and Let It Shine, now seems eerily prescient.
The 1980s House: 'Early mornings on television are very different from today. There are only three and a half channels, all showing popular comedy rodents.' This series four segment went one further than Room 4 Change; in addition to capably ridiculing an existing format, it also accidentally predicted a future one. Originally conceived as a parody of The 1900 House, the historical reality show in which a modern-day family were forced to co-habit in late Victorian mode for three months, The 1980s House now looks uncannily like the blueprint for BBC Two's Back in Time for the Weekend, the 2016 series that examined changing family leisure habits over the last six decades.
The similarities are freakish: both families have double-barrelled surnames (the Ashby-Hawkinses versus the Fatboy-Slims), and each includes at least one parent who works in IT…
BaaadDad Revisited: 'Do I have to inhale?' This segment was inspired by Adam and Joe's old school chum Louis Theroux, whose meteoric rise coincided with their own (we really didn't know how good we had it in the 90s; try telling that to the kids today…). Pointing out that Adam's father, former Sunday Telegraph travel writer and wine connoisseur Nigel Buxton, was less than au fait with youth culture, Theroux suggested his employment as the programme's correspondent. In series one Nigel provided his often eviscerating views on the latest popular music releases, before going into the field in later episodes (often literally), attending several music festivals, and dubiously partaking of the Ibiza club scene.
This link will take you to his 2004 retrospective, put together for Adam and Joe's compilation DVD (alas, full releases of the individual series have not been forthcoming). It was posted by Adam following his father's sad passing in 2015; a fitting tribute to a good dad.
So, there you have Adam and Joe, in a nutshell. Master dissectors of popular media, or juvenile cockers of snooks? Probably a little of both. At its best, The Adam and Joe Show not only made me laugh a lot, it also confirmed my growing suspicion that perhaps – just perhaps – some of the people working in film and television didn't always quite know what they were doing.
It just took a couple of prongs in a bedroom to point it out.
Never a mainstream success (viewing figures peaked at 1.5m, but fans would have hated it if everyone had known about them), the show has perhaps not been accorded the same place in the pantheon as contemporaries like Brass Eye, but celebrated its twentieth anniversary with a rapidly sold out BFI Q&A in December last year. How has the material held up? Well, it still makes me laugh – but the sad fact is that, though Adam and Joe have long since disappeared from the airwaves (Joe now works in film, having given John Boyega his break in Attack the Block, while Adam is a master podcaster, and has also turned his attention to online culture in his BUG shows), the vapid genres they punctured so perfectly continue to proliferate.
Ah, well. There's more to tell – much more – but now is not the time to chronicle the duo's later adventures on radio. However, if you have the time, please give Joe's analysis of the opening sequence from Skins series three a listen; it's as canny a piece of textual analysis as anything you'll get from your students.
I'm going now, bye!
Dr Richard Hewett is Lecturer in Media Theory at the University of Salford's School of Arts and Media. He has contributed articles to The Journal of British Cinema and Television, The Historical Journal of Film, Radio and Television, Critical Studies in Television and Adaptation. His book, The Changing Spaces of Television Acting, will be published by Manchester University Press in August.