Well to me it [country music] is soul music.  It's probably white man's soul music.  And it comes from the heart. 
— Kris Kristofferson from Country Music (2019) in Episode One: 'The Rub' (Beginnings-1933)
Early on in Ken Burns' upcoming Public Broadcasting Service (PBS) miniseries, Country Music, singer-songwriter-actor, Kris Kristofferson, resurrects an old saw when he refers to this musical genre as 'white man's soul music.'  Race is certainly an ongoing dynamic in country music as it is in most musical genres, popular or otherwise, as well as in the arts and society in general.  Country music in particular is often pigeonholed as white and rural, politically and religiously conservative, and musically uncomplicated and direct.  To put it succinctly, the opening of Country Music reprises Nashville Hall of Fame songwriter, Harlan Howard's well-known description of a country song as being 'three chords and the truth.'
Country music is an undeniable art form, a sweeping century-old cultural tradition, and in 2019, a mature, insular, and often calcified industry.  The Tennessee Department of Tourist Development contributed $1 million to Country Music's $30 million budget.  It's assistant commissioner, Brian Wagner, suggests, 'the film will redefine what people think of country music' (Newman).  Given the historically informed and inclusive perspective of its creative team, this aspiration is possible.  Onscreen commentator, Wynton Marsalis, offers several observations throughout Country Music involving the creative interplay between jazz and country music and its implication concerning race relations:
Before [Deford] Bailey [who was one of the original headliners at the Grand Ole Opry], Ray Charles, and Charlie Pride, there were two or three black people who were known to be in country music.  They were accepted.  The musicians accepted them at a time when the culture did not accept them.  There's truth in the music and it's too bad that we as a culture have not been able to address that truth (from Episode Five: 'The Sons and Daughters of America,' 1964-1933).
DeFord Bailey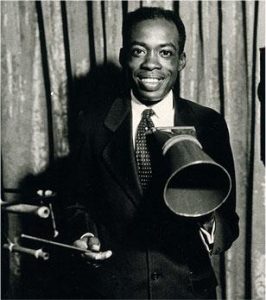 Country music and blues singer and musician, DeFord Bailey, is just one of the many musical artists of color that Ken Burns's new miniseries restores to their rightful place in the history and popular memory of this musical genre.  Race has always been the 'connecting thread' in all of Burns' work, and it is once again featured prominently in this eight episode, 16½ hour miniseries, which will debut on PBS from 15-18 through 22-25 of September 2019, while being available simultaneously for streaming worldwide at https://www.pbs.org/show/country-music/.
Burns, along with his lead producer and head writer, Dayton Duncan, co-producer Julie Dunfey, and the entire creative team, portray country music as a longstanding and rich tradition that is animated by the same tendencies and tensions as American history and culture in general.  His miniseries avoids the narrative pitfall of Jazz (2001) by remaining resolutely historical throughout, ending in 1996 with the ascendancy of Garth Brooks, instead of attempting to reference every significant branch of country music's evolutionary tree up through the first two decades of the 21st century.
One of these significant hip-hop related offshoots is hick-hop during the 1980s that developed into country rap in the 1990s and later set the stage for country trap in the 2000s.  New York Times music critic, Jon Caramanica, recently provided a 29-song archaeology beginning in 1985 that chronicles the ongoing 'dialogue between country music and hip-hop, genres that have been slowly but consistently finding common heritage, swapping structural elements and taking comfort in each other's sound' (AR12).  One especially influential release was the notable collaboration, 'I Play Chicken With the Train' (2005), between black rapper, Cowboy Troy, and the white MuzikMafia of Big Kenny, John Rich, Jon Nicholson, and Cory Gierman:
Much the same way that Elvis took the gritty rendition of the 1953 R&B Jerry Leiber and Mike Stoller twelve-bar blues song, 'Hound Dog,' by Willie Mae 'Big Mama' Thornton, and made it an even bigger hit on the pop charts in 1956, Jason Aldean once and for all mainstreamed the then 25-year relationship between country music and hip-hop with his massively popular 2011 cover of Brantley Gilbert and Colt Ford's rawer, less polished original composition 'Dirt Road Anthem.'  Aldean's crossover version of 'Dirt Road Anthem' peaked at #1 on Billboard's Hot Country Chart and #7 on the all-encompassing Hot 100 chart.
Small wonder, then, that 20-year-old Atlanta-based singer-songwriter-rapper, Lil Nas X (née Montero Lamar Hill), created the current ubiquitous earworm, 'Old Town Road,' from an amalgam of influences that reflect his generational, geographic, and racial position and perspective.  He is a son of the American South; a child of hip-hop and country as well as the Internet and meme-culture.  At 19, Lil Nas X dropped out of the University of West Georgia after his first year, and much to his parents' dismay, devoted himself full-time to making music while sleeping on the floor at his sister's house.
Montero Lamar Hill aka Lil Nas X
'Old Town Road' is genre blending and bending.  It combines a fun-loving mixture of hip-hop and tongue-in-cheek yee-haw references.  The song displays its hip-hop influence by combining an assortment of samples with newly created elements, such as Nine Inch Nails' twangy, somber banjo instrumental, '34 Ghosts IV,' Dutch producer YoungKio's trap beat, and originally composed melodic and lyrical lines featuring everything from a Dobro resonator guitar to word associations evoking traditional Western tropes like horses, boots, and a matte black hat.
Lil Nas X's southern U.S. roots are clearly evident in 'Old Town Road's trap accent along with its yee-haw word play that has long been common of a wide array of country artists from Dolly Parton to Kacey Musgraves.  Like many young, aspiring singer-songwriters since 2008, Lil Nas X utilized the online audio-distribution platform, SoundCloud, to post the initial 1:53 runtime version of 'Old Town Road' on 3 December 2018.  Being a tech-savvy GenZer, he then promoted the song for months by issuing a yee-haw challenge on the two-year-old social media app, TikTok, which users utilize to create and share short 3- to 15-second music videos.
'Old Town Road' thus took off as other GenZers and Millennials especially dressed up in cowboy gear and sashayed on-camera to 'Old Town Road's country trap beat and melody.  By early March 2019, the tune had emerged as TikTok's greatest success story to date, but more improbably, a megaviral global phenomenon in the tens of millions of postings across all of the major social media platforms.  Lil Nas X even created a makeshift music video by recutting clips from the 2018 Western-themed game, Red Dead Redemption 2, which was embraced by its developer and publisher, Rockstar Studio, as a windfall cross-promotion.
On March 16, 'Old Town Road' charted for the first time on Billboard, showing up on three lists simultaneously (Hot 100, Hot Country, and Hot R&B/hip-hop).  Only one other song in history has ever demonstrated this level of crossover popularity (i.e., 'We Are the World,' which appeared on six different charts at once in 1985).  Radio programmers began ripping 'Old Town Road' off of YouTube to include it on their playlists.  Then quietly and anonymously, the song was removed from Billboard's country chart at the end of March just as it was about to achieve the rare trifecta of being #1 on all three lists.  Instead 'Old Town Road' reached the top of the Hot 100 and Hot R&B/hip-hop charts while morphing from a meme to a cause célèbre in the country music world.
Inquiries from the music press compelled Billboard to issue a statement explaining that 'while "Old Town Road" incorporates references to country and cowboy imagery, it does not embrace enough elements of today's country music to chart in its current version' (Leight).  Grassroots support for Lil Nas X appeared instantly from other country music artists including social media postings by Keith Urban (who sang the song in a tweet), Megan Linsey, and Brian Kelly of Florida Georgia Line, among many others.  Billy Ray Cyrus enthusiastically contributed to a remix of 'Old Town Road,' which has topped the Hot 100 and Hot R&B/hip-hop lists in America since April 6 as well as charted in the top-10 in more than two dozen other countries worldwide.
The "Old Town Road' controversy is the best thing that could have ever happened to Lil Nas X. He was signed by both Columbia Records and CAA (Creative Artists Agency) for global representation.  Columbia Records next released on May 17 a big-budgeted cinematic music-video remake dubbed, 'Old Town Road (Official Movie),' directed by Calmatic, starring Lil Nas X and Billy Ray Cyrus, and featuring comedian Chris Rock, record producer and DJ, Diplo (who also has issued an electronic dancehall remix of the song), rappers Vince Staples and Rico Nasty, Internet comic HaHa Davis, and the aforementioned beat composer YoungKio.
Not surprisingly, country music has surfaced as an important flash point in America's current culture wars.  As far as the 'Old Town Road' controversy, Lil Nas X has upset the status quo because of his musical talent and online technical awareness and skills, along with his race and youth.  He bypassed Nashville's gatekeepers to initially reach a vast listening public through SoundCloud and TikTok rather than waiting around, hoping to be discovered, and being rolled out by one of country music's traditional record labels.  Enforcing entrance into a genre by controlling how it is defined is above all else about money and power not art.
Even though 'Old Town Road' has not been reinstated on the Hot Country chart, the song is currently #50 and climbing on Billboard's Hot Country Airplay listings.  This case illustrates that the country music industry cannot always control what its target audience listens to and embraces as a hit.  Popular art is also not a chicken-and-egg proposition.  An artist's innovation always precedes its economic exploitation.  'Old Town Road' is a country trap song because Lil Nas X says it is.
Many a country musician has employed the vocabulary of hip-hop for more than three decades to reflect the rural experience through rap.  Lil Nas X is more than country enough to apply the usual Nashville vernacular to express his life experiences as a young black man from Atlanta with joy and humor, silliness and irony.  Taylor Swift crossed musical boundaries from inside country expanding outwards.  Lil Nas X is accordingly being welcomed from the outside in despite pushback from an entrenched, repressive minority within country music's establishment.
Moreover, Lil Nas X is country music's black swan, a siren's call of an omen signaling the growing diversity within its ranks.  Men and women singer-songwriters as varied as Darius Rucker, Jimmy Allen, and Kane Brown, as well as Petrella Ann Bonner, Rhiannon Giddens, and Mickey Guyton, have for decades expanded the racial profile of country music from the inside out.
As Ken Burns' upcoming Country Music makes abundantly clear, this musical genre also owes a long-forgotten debt to pioneering African-American musical innovators, such as Rufus Payne, Lead Belly, and Robert Johnson.  In episode five, Wynton Marsalis once again observes that 'the art tells more the tale of what's coming together.'  The changing definition of country music is a revealing harbinger of affirmation and inclusion percolating beneath the surface of contemporary America writ large.
---
Gary R. Edgerton is Professor of Creative Media and Entertainment at Butler University.  He has published twelve books and more than eighty-five essays on a variety of television, film and culture topics in a wide assortment of books, scholarly journals, and encyclopedias.  He also coedits the Journal of Popular Film and Television.
Works Cited
Caramanica, Jon. 'Country Has Borders: A Crossover Song Starts Talk Over a Genre and Who Represents the Rural Experience,' New York Times. 21 April 2019: AR1, AR12-AR13.
Leight, Elias. 'Lil Nas X's "Old Town Road" Was a Country Hit. Then Country Changed Its Mind,' Rolling Stone. 26 March 2019 at https://www.rollingstone.com/music/music-features/lil-nas-x-old-town-road-810844/.
Newman, Melinda. 'How Ken Burns' New Documentary Will "Redefine What People Think of As Country Music,"' Billboard. 9 May 2019 at https://www.billboard.com/articles/columns/country/8510567/ken-burns-country-music-documentary-interview.