As this goes to press (can we say that about online materials?), series four of Line of Duty is about to commence transmission in its new Sunday evening slot. I must admit I was slow coming to this particular party; when I saw the first series being advertised in a Radio Times feature back in 2012 my response was along the lines of 'Crivens! Yet another benighted police procedural!' [1]Or words to that effect. and I gave it a miss. Only after the repeated exhortations of my parents during series two did I finally succumb, binge-watching episodes one to five like some Netflix-addled undergrad in preparation for the final instalment – which left many viewers not quite clear as to whether Keeley Hawes' Lindsay Denton was a proper baddie or not. This was eventually resolved when the 'cops on the trail of cops' serial returned last year, closing several on-going plot threads without being so gauche as to offer total closure.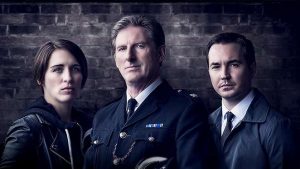 Line of Duty has many strengths, not least of which are Jed Mercurio's scripts, which sparkle in their opacity (I'm aware that's an oxymoron, but nothing in these serials is easily read – and that's a good thing), supported by a sterling cast of regulars (Martin Compston, Vicky McClure, Adrian Dunbar), guest antagonists (Lennie James, Keeley Hawes, Daniel Mays) and semi-regulars (Craig Parkinson, Neil Morrissey, Maya Sondhi). Made by independent company World Productions, the show has – until now – been shown on BBC Two: the nation's 'alternative' mainstream channel. As proudly trumpeted on its official website, Two's drama targets an audience keen for 'complex and demanding tales'; it's the channel that provides an 'edgy, angled perspective on the world.'
'Edgy'; yeah.
This year, however, Line of Duty has been snaffled by BBC One. Billing itself as 'competitive, high-impact, and distinguished by quality', this is the channel that still makes claims to edginess while simultaneously offering 'something for everyone'. Frankly, I fear for Line of Duty in the Sunday 9 pm Poldark slot. What compromises might take place when a hidden gem becomes the jewel in the crown?
Well, there are precedents. A great number of 'mainstream' shows we probably now think of as BBC One originals in fact started life on BBC Two before being whipped away by big brother. Always keen to bring quality to a wider audience (or so they tell us), BBC One has on several occasions either taken over original transmission of former BBC Two productions, or simply repeated them so often that we forget where it was we saw them in the first place.
Here, then, is an overview of shows you might well have forgotten received their big breaks on BBC Two (or, as we used to call it, BBC2)…
Following a disastrous non-launch in April 1964, the new channel was just four months old when it transmitted the first edition of Match of the Day. Traditionally something of a minority interest sport, football seemed to have found its natural home with the new niche broadcaster, which in the wake of the Pilkington Report was targeting audiences not already catered for by BBC One (formerly just BBC Television) or the more populist ITV companies. From August 1966, however, in a move designed to cash in on England's recent fluke victory in something called the World Cup, the show was shunted over to BBC One, and the rest is history. Rumours persist that this transfer – the equivalent in soccering terms of promotion from an ordinary league division to the more highly regarded Premier – was in fact the result of BBC Two Controller David Attenborough's belief that football was a 'fad', and that room needed to be made for 'more wildlife shows'. [2]I am making some of this up, by the way. Either way, Match of the Day never looked back. In 2004, sister show Match of the Day 2 was launched, again on BBC Two, showing highlights from matches played on the less popular footballing day of Sunday. However, this eventually followed its parent show to BBC One in 2012, leaving BBC Two soccer fans sick as parrots.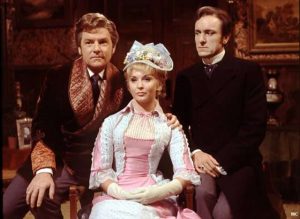 So much for sport; let us now turn to drama. Designed to tempt viewers to the still new (ish) channel, The Forsyte Saga was a lavish, twenty-six episode adaptation of John Galsworthy's epic series of novels, broadcast between January and July 1968. Though now hailed as a ground-breaking production (its success in the US led in part to the founding of PBS's Masterpiece Theatre, and it was also sold to the Soviet Union), The Forsyte Saga did not make quite the immediate impact that might be assumed, as many British viewers were unable to receive the 625-line BBC Two transmissions on their TV sets. Only when shown on BBC One between 1968 and 1969 did Forsyte achieve viewing figures of 18 million, leading to further repeats on the main channel in 1970, and again in 1974. Significantly, it was relegated to a 3 pm slot for the latter outing. Made in black and white (interesting in itself, as BBC Two moved away from monochrome production some time before BBC One), Forsyte was perhaps beginning to look slightly dated in a television landscape rapidly converting to colour.
What of comedy, I hear you cry? Well, Fawlty Towers is probably now as firmly embedded in the British national psyche as Sunday roasts and wet bank holiday weekends. Most of you are probably aware that only twelve episodes were ever made, but how many would recall that these were originally broadcast on BBC Two? We might now be able to quote classic lines verbatim [3]My mum's favourite: 'Don't mention the war; I did once, but I think I got away with it…' but when first shown on Friday evenings in 1975 the series was more mild curiosity than overnight success. Although things were starting to pick up by the time Basil goose-stepped his way across the screen in 'The Germans', it was only (as John Cleese has recalled in numerous interviews, DVD extras and commentaries) after the series was shown on BBC One in 1976 that a mainstream following began to coalesce. This was reinforced when the first batch of episodes was given a second BBC One outing in 1978, prior to the launch of the second series in 1979, back home on BBC Two – which is where it really began to cement its legendary status. To date, Fawlty Towers has been screened more often on BBC One (most of series two was swiftly shown in 1979, followed by further repeats in 1980, 1982, 1988, 1995, 1998, 2000, 2002 and 2003 – plus a 2016 outing for 'Communication Problems' as a tribute to Andrew Sachs) than Two (1981, 1985, 1986, 1989 and 2003). [4]For the record, it was also broadcast on BBC Four in 2006.. Subsequent BBC Two sitcoms such as Absolutely Fabulous, The Royle Family and Miranda all upped sticks for BBC One with almost indecent haste, Jennifer Saunders, Caroline Aherne and Craig Cash jumping ship after just one series, while Miranda Hart stuck around for two (anything less would have been rude). Even The Office, which like Fawlty Towers limited its run of episodes, eventually sold out to BBC One for the 2003 Christmas specials. One result of promotion to the main channel was an occasional sense of neutering. As one of my students recently pointed out in class, chocolate willies were out for Miranda after moving to One (though I think she phrased it more elegantly than that), and the Office specials were doomed to provide a far cosier sense of resolution than would have been possible in the earlier series. I'm not referring here to the perhaps inevitable pairing of Tim and Dawn in the finale, but the recasting of formerly likeable everyman boss Neil as a quietly nasty piece of work felt as though it was designed purely to make the David Brent character (comparatively) sympathetic – seldom the case in the BBC Two episodes. By contrast, Fawlty Towers stuck to its non-mainstream guns throughout. Basil remained unremittingly awful (though I am on his side to a certain extent in 'The Pychiatrist' – one of the few episodes where he doesn't actually do anything wrong, which makes his continuing humiliations all the darker and more disturbing), and if dead bodies and rats now seem par for the sitcom course, the show was a game-changer in its day (though admittedly still drawing upon traditional elements of farce). In retrospect, while giving the highest profile Python his own show might sound like a safe bet, there was no guarantee Fawlty Towers would be a success. Cleese was primarily known as a sketch comedian, not a sitcom star, and as already seen it took several years (and a lot of post hoc main channel exposure) to fully bed the show in as a national treasure. With this in mind, there is something rather noble (assuming the decision was theirs) about Cleese and Connie Booth sticking with BBC Two for the second run.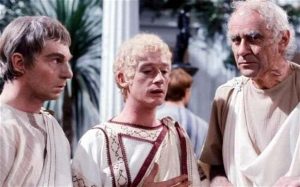 Let's get back to the classics. Forget HBO and Netflix; I, Claudius is clearly the best serial television drama ever made. [5]If you still haven't seen it, drag yourself away from Game of Thrones and give yourself a treat. It has exactly the same USPs: sex, violence, and top British thespians. The only difference is that … Continue reading  And it was made for BBC Two. Originally shown from September to December 1976, it was repeated on the same channel in the summer and autumn of 1977, before finally making its BBC One debut the following year. Shades of Forsyte, you might think, except that by the time it went to One, Claudius was already a hit, having won BAFTAs for Best Actor (Derek Jacobi), Best Actress (Sian Phillips) and Best Design (Tim Harvey), in addition to enjoying an acclaimed run on Masterpiece Theatre across the Pond. Not bad, eh? And all before BBC One got its grubby mits on it. For once, the main channel was slow to cash in on its sibling's achievement, barely keeping pace with Derek Jacobi's limping Imperator. When the serial was screened again in 1986, as a tribute to Robert Graves, it was back on BBC Two where it belonged (and where it was discovered by a whole new audience, myself included). The same trick was later played with Alan Bleasdale's Boys from the Blackstuff, which started out on BBC Two in 1982, was then shown on BBC One in 1983, and ended up being repeated on Two again in 1989. In 2013, BBC Four repeated I, Claudius in memory of the now-defunct Television Centre. These days you'd be as mad as Caligula to commission a serial recreating the splendour of ancient Rome entirely in the studio, but back in 1976 it was water off BBC Two's back.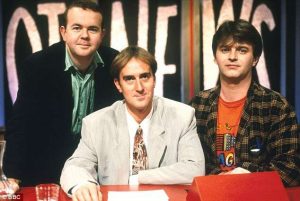 Two does not, however, specialise in innovative comedy and drama alone. Arguably the daddy of the modern panel quiz format, Have I Got News for You had a lengthy residency on the channel between 1990 and 2000. As I well recall, it used to be broadcast at the not at all mainstream hour of 10 pm. My brother and I used to tune in after watching the first half-hour of Casualty (ever a BBC One stalwart, but can you remember when it was shown on Fridays, after the news – which used to be broadcast at 9 o'clock? Ah, memories…). The most horrific Casualty accidents usually happened in the first half-hour, and then it was over to HIGNFY for some properly edgy satire. In one 1993 show, they had a tub of lard as a guest panellist after Roy Hattersley failed to show up. An actual tub of lard; can you imagine? From 2000, though, it moved to BBC One, by which time it had become more of a 9 pm type of thing. The edge was blunted, and the squares at One even sacked host Angus Deayton after sex and drugs revelations. How safe is that? I attended several later recordings when I was still living in London, including the one John Prescott hosted (he genuinely couldn't pronounce 'vasectomy'). For a brief moment, the recording nearly became edgy again when one of the panellists, a 'lovable' Liverpudlian stand-up, praised Prescott for having previously punched a protestor in the face (fair play; the fellow had, after all, thrown an egg at him): 'We was all on your side!' he chirruped. Ian Hislop quickly demurred, but – alas – this promising incident went no further, and was cut from the transmitted version.
That BBC One takes the edge off everything.
I will now depart from my brief – but only briefly – to examine the strange case of Torchwood. I should make it clear from the outset that this wasn't a BBC Two original, and so probably does not belong in this blog. However, this sense of not belonging very much characterised the series' broadcast history. Torchwood began life on BBC Three in 2006, having been pitched as 'grown up Doctor Who' (think 'very edgy'). 'Grown up' in this context essentially meant more sex, more swearing, fairly unsympathetic characters, and a far greater number of scenes actually set in Cardiff, as opposed to just filmed there. However, series two (which was originally shown on BBC Two in early 2008, shortly after a 2007 screening of the first series) witnessed a toning down of these excesses (though Cardiff still featured heavily), and the sci-fi spin-off started to become quite watchable – until two of the lead cast were killed off somewhat gratuitously in the finale. That seemed to be it for the show, before it once again regenerated itself, this time as a five-part serial, the Wyndham-esque 'Children of Earth', stripped across a single week on BBC One in the summer of 2009. This was very good indeed, although yet another regular character died. To return to my earlier footballing metaphor (with which I admit I'm not entirely comfortable), Torchwood started life very much at the top of League One, before being promoted to the EFL Championship, and finally found its form in the Premier League.
Skills.
Unfortunately, manager Russell T Davies bought in too many international players for the 2011 'Miracle Day' season, which tried to be all things to all men, with the result that the team has subsequently been relegated several divisions to the National League of radio plays, spin-off novels and Big Finish audio adventures.
I do hope I got that whole football division metaphor right; it's not really my area.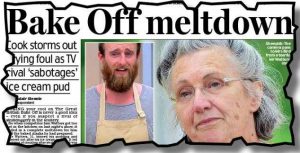 Where are we now? Ah, yes; last (and quite possibly least) is The Great British Bake-Off. Originally on Two from 2010 to 2013, who would have thought this flan fan elimination contest would eventually achieve near-Strictly status in the national calendar? Not me; I hardly ever watched. It is probably telling that the one episode to catch my attention – Alaska-Gate, in which Iain (whose beard you could lose a badger in) suffered a meltdown after his dessert … um … suffered a meltdown – was one of the first to be shown on BBC One. This was Great TV, and from that point on the series went from strength to strength. Then, last year – in a twist that, after decades of casual filching, gave BBC One a nasty dose of its own medicine – the whole format was stolen away, lock, stock and pastry brush, by brash, properly 'edgy' Channel 4 (they show Utopia and things like that). This week it was announced that Sandi and Noel have replaced Mel and Sue (I told you: edgy), and cake heads are already complaining that, with these radical new presenters, it simply won't be the same.
But then, I gather that's the idea…
This major upset will perhaps teach BBC One that helping oneself to another channel's sweetmeats simply isn't on – and maybe one shouldn't place all one's eggs in an independent company's soufflé tray. But where does that leave us vis-à-vis Line of Duty? On the plus side, series four will feature the excellent Thandie Newton and Jason Watkins, and the trailer has already indicated the usual levels of narrative complexity. All of which is promising. However, its new status as BBC One flagship drama places it under demands that may not be so easy to meet. Even in the dramatic chase finale of series three (which I won't spoil for anyone who hasn't seen it) there were signs that the show was tending slightly towards the overblown, and this is a programme that more typically flourishes via scenes of long, drawn-out conversation – not the kind of thing necessarily guaranteed to keep a Sunday evening audience hooked. [6]They tend to prefer topless scything, don't they?
For the moment, though, there is little danger of Line of Duty being whisked away by ITV and stuck in the Broadchurch slot; a fifth series has already been commissioned. And while this might sound a little perverse, part of me would be quite content to see it once again tucked away on BBC Two, perhaps on a Wednesday or Thursday evening.
A hidden gem once more.
Dr Richard Hewett is Lecturer in Media Theory at the University of Salford's School of Arts and Media. He has contributed articles to The Journal of British Cinema and Television, The Historical Journal of Film, Radio and Television, Critical Studies in Television and Adaptation. His book, The Changing Spaces of Television Acting, will be published by Manchester University Press later this year.
He would like to acknowledge that writing this blog was made much simpler by the availability of the excellent BBC Genome website.
References

↑

1
Or words to that effect.

↑

2
I am making some of this up, by the way.

↑

3
My mum's favourite: 'Don't mention the war; I did once, but I think I got away with it…'

↑

4
For the record, it was also broadcast on BBC Four in 2006.

↑

5
If you still haven't seen it, drag yourself away from Game of Thrones and give yourself a treat. It has exactly the same USPs: sex, violence, and top British thespians. The only difference is that in those days they mainly worked on British television.

↑

6
They tend to prefer topless scything, don't they?