Queering the quotidian –
Queer phenomenological approaches to 'lowbrow' entertainment
Issue 20, Summer 2022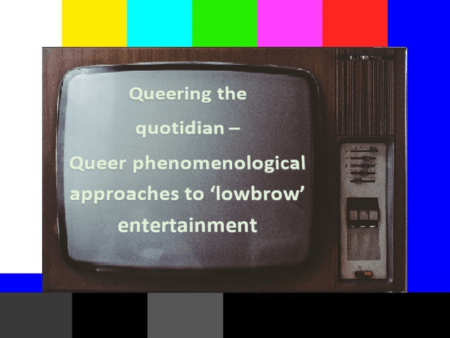 Co-Editors-in-Chief: Philippa Orme & Isaac Pletcher
Book Review Editor: Wesley Kirkpatrick
The body is fundamental to explorations of queer identity. Queer bodies sense, relate and respond to the world differently; they are fluid, transgress boundaries, and resist definition within normative identity categories.
Film phenomenology likewise positions the sensory expressions of our bodies at the core of our engagement with cinema in ways that are proving useful for queer theorists. The relations between embodied queer orientations and the affective evocations of LGBTQIA+ storytelling, from arthouse cinema to television drama, have been compellingly advanced by scholars including Katharina Lindner (2012, 2019), Clara Bradbury-Rance (2019) and Zoë Shacklock (2019). Yet 'lowbrow' entertainment, or what often gets dismissed as such, has not received the same attention. Those everyday media forms most frequently at our fingertips – reality TV, soap operas, and even social media platforms – offer a rich untapped vein for queer phenomenological investigation, while more overtly commercial cycles such as horror or action genres await further consideration.
Challenging this absence, the landmark 20th issue of Frames Cinema Journal asks: what can phenomenological analyses of quotidian and so-called 'lowbrow' media, and their affective qualities, tell us about embodied queer subjectivities and experiences? Can their accessibility disrupt the unworkable dichotomies between high/low, alternative/mainstream, and queer/heterosexual often found within queer theory? And how can we locate the queerness of and the queerness within media beyond the quality of its LGBTQIA+ representation onscreen?
Besides cinema and television, Frames welcomes abstracts dealing with alternative audio-visual platforms including social media, AR/VR, video games, and the metaverse. We are particularly excited to receive work from lesbian, non-binary, trans and intersectional perspectives which offer inclusive ways of thinking about queerness and the modes of engagement open to queer audiences.
Topics may include (but are certainly not limited to) queer phenomenological approaches to:
Feminist theory
Trans theory
Critical race theory
Affect theory
Kinaesthesia
Horror, action and other genre cycles
Soap operas
Docusoaps
Reality TV
Animation
Media beyond TV/film: social media (e.g. TikTok, Twitch), AR/VR, video games and the metaverse
References
Bradbury-Rance, Clara. Lesbian Cinema After Queer Theory. Edinburgh: Edinburgh University Press, 2019
Linder, Katharina. Film bodies: queer feminist encounters with gender and sexuality in cinema. London: I. B. Tauris & Co, 2018
Linder, Katharina. "Questions of embodied difference: Film and queer phenomenology". European Journal of Media Studies, no. 2 (2012): 199-217
Shacklock, Zoë. "Queer kinaesthesia on television". Screen 60, no. 4 (Winter, 2019): 509-527
Notes for Contributors:
Proposal abstracts should be no more than 250 words and must be accompanied by an indicative bibliography. A brief third-person bio of approx. 150 words should be provided along with the abstract. Abstracts for video essays are encouraged and should follow the same guidelines. The bibliography should include anticipated sources for moving images.
Abstracts should be sent as Word Documents and titled "Frames Issue 20 [Author First name Author Surname]" (e.g. Frames Issue 20 Madeleine Olnek).
Please submit your proposal to Philippa Orme & Isaac Pletcher at framesjournal@gmail.com.
Frames accepts a variety of written pieces for submission, such as:
Feature Articles, which are research essays that engage in theoretical, practical, pedagogical, and/or historical analysis of the visual narrative in film or related digital media. Feature Articles are typically between 5,000-7,000 words in length, inclusive of footnotes, but exclusive of the bibliography.
Point-of-View (POV) Featurettes, which are shorter research essays which seek to examine or express a specific critique about a theme in a more succinct fashion. These could include experiences with moving-image archives in digital or material contexts. POV Featurettes are typically between 1,000-3,000 words in length, inclusive of footnotes, but exclusive of the bibliography.
Scene Reviews, which are shorter research essays, investigate and review one scene in detail. Scene Reviews are typically between 1,000-2,000 words in length, inclusive of footnotes, but exclusive of the bibliography.
Film Featurettes, which are shorter research essays, discuss and review one film in detail. Film Featurettes are typically between 1,000-3,000 words in length, inclusive of footnotes, but exclusive of the bibliography.
Book Reviews, which are essays that provide a scholarly critique of the latest texts in the field. The text choice may range from the theoretical and the practical to the pedagogical and the historical. Book Reviews are typically 1,000-1,500 words in length, inclusive of footnotes, but exclusive of the bibliography. If you would like to publish a book review, please contact our Book Review Editor, Wesley Kirkpatrick, at wk27@st-andrews.ac.uk.
Frames also accepts and encourages video essay submissions:
Video essays can be of varying length and should be discussed with the editors on a case-by-case basis. Video essay submissions must be sent to the editors in the form of a link using an online platform (Vimeo, YouTube, etc.).
All submissions to Frames should not be under consideration elsewhere, and should be original and previously unpublished.
Please refer to our Submissions page for more details.
Timetable for Issue 20 (extended):
Abstract Proposal Deadline: 11/03/2022
Abstract Decision Announcement: 16/03/2022
First Draft Deadline: 02/05/2022
Editorial Review: 02/05/2022 – 16/05/2022
Final Copy Deadline: 20/06/2022
Intended Publication Week: 04/07/2022
Abstracts are to be submitted no later than Friday 11th March – any abstracts submitted after this date will not be considered. Authors should expect to be notified of the editorial committee's decision by Wednesday 16th March.
If you have any questions, do not hesitate to contact us at framesjournal@gmail.com.
Philippa Orme & Isaac Pletcher
Co-Editors-in-Chief
Wesley Kirkpatrick
Book Review Editor
Twitter: @FramesJournal