Who wants to be Chair of the BBC? As it happens, nobody really. Who wants to be a director of Channel 4? As it happens, Ofcom recommended Althea Efunshile, former deputy chief executive of the Arts Council and a BAME woman. But Culture Secretary Karen Bradley has turned her down as she "does not meet the requirements of the role". This sorry state of affairs summarises the current mess that the government is currently making in its interventions into broadcasting. That, of course, and the continuing uncertainty about Channel 4's future.
There's something of a continuity between the May and Cameron governments on attitudes to broadcasting (but perhaps not towards women at the top of broadcasting, as we shall see). They want to intimidate broadcasters, but not in a heavy handed and obvious way. Policy is done on the fly. The BBC's funding was decided last year in a hole-in-corner deal by the then chancellor George Osborne, without reference to anything more than a spreadsheet of required austerity savings. In September, the May government insisted that the interim BBC chair Rona Fairhead should reapply for the job, despite David Cameron's request that she should stay on until October 2018 to see in the new Ofcom regulatory regime for the organisation. Given the bruising she has suffered in the last few year's battles, it was perhaps surprising that she publically accepted this invitation. The May government's subsquent snub has been widely criticised.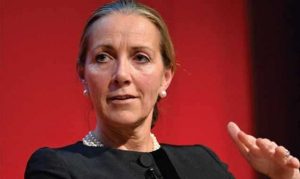 So now they can't find someone to do the job. The system used to be that some member of the great and the good would be produced: a former senior Tory politician like Chris (now Lord) Patten, or a Labour millionaire like Gavyn Davies. Sometimes, out of spite, a government appointed someone hostile to the BBC as Harold Wilson did with Lord Charles Hill in 1967 ("like inviting Rommel to command the Eight Army on the eve of Alamein" said acting chair Sir Robert Lusty). But it seems that this well has run dry. It is hardly surprising, given the fates of Davies and Patten: dealing with crisis after crisis, taking the blame for things they never even heard of, and then forced to resign. All for £100,000 a year. You get more money and considerably better cushioning as a Vice Chancellor.
And that's the calculation that the potential candidates must have made. They weighed up the opportunities for public service against the certainty of routine Daily Mail smears and the likelihood of a severe public kicking in some unexpected scandal. The opportunities for public service must have appeared pretty slight in comparison. The BBC continues to be uncertain about its long-term mission, despite the continuing excellence of its programming (Life on Earth 2, The Missing, Strictly Come Dancing). Its news mission of balance and objectivity is in tatters after the debacle of its referendum coverage where unsubstantiated 'factoids' were brought in to balance other speculative forecasts. Lots of 'what ifs?' but, as we now realise, not a single 'how will this work?'
Meanwhile at Channel 4, David Abraham is increasingly strident in his criticism of the uncertainty over his organisation's future. It is owned by the government, but operates independently. Rather like the BBC, rally, and so is open to the same manipulations by a government that has little respect for the traditions of the separation of powers. The former unlamented culture secretary John Whittingdale started this one. Realising that privatisation of Channel 4 could net the austerity government around £1 billion, he hoisted an 'any offers' sign over it. Enough outrage was generated to mean that he had to insist that the privatised organisation would have to be sold with its remit intact and closely policed. That put off a lot of punters. Why buy all that close regulation when troubled Viacom might at any time sell Channel 5 virtually unencumbered of such difficulties?
So now the game is destabilisation of Channel 4. Perhaps it should move to Birmingham (freeing up that nice property in Horseferry road as a windfall for someone), or perhaps it should be forced to do something or told not to do something else. Nobody knows as there is an ongoing review of the review of Channel 4 carried out by May henchwoman Karen Bradley (one of May's juniors at the Home Office, it should be remembered). Abraham has carried out a well-mannered and effective campaign to end this state of legislative limbo and continue with the current system. It's not broken so why fix it? Given that we live in a post-factual political world imagined by Paul Dacre, we might suspect that the aim is to break whilst pretending to fix it.
Which brings us messily to the most recent broadcasting scandal. Channel 4 has a raft of directors coming to the end of their time. In the normal way, Ofcom recommended five replacements to the culture secretary, back in July. Four of them were eventually nodded through: all white males. One of them is Rowley Keating, formerly controller of BBC4 and BBC2, now heading the British Library: someone who has been quietly effective in his defence of core public service values. A good appointment, in other words, but one entirely overshadowed by the fifth person recommended by Ofcom.
Althea Efunshile who had the temerity to be both a woman and a member of the BAME community. Until recently the deputy chief executive of the Arts Council, she received a CBE this autumn and is chair of the National College for the Creative and Culture Industries, and a non-executive board member of both Goldsmiths and the University College Hospital NHS Trust. Such people are not exactly thick on the ground in modern Britain, but the culture secretary has refused this nomination on the grounds that she does not have the right qualifications. This is a highly unusual act.
As we go to press, this decision is being challenged all over the place. Taken with the dismissal of Rona Fairhead and the problems of finding anyone will to succeed her, we have an establishment omnishambles developing in broadcasting. It is hard to discern any policy at work here, apart from a sense of entitlement to do 'whatever', and a growing confidence in government that they can get away with just that. This is just a small part of a larger breakdown of established government procedures as the scale of the Brexit disaster begins to reveal itself. But this particular one will profoundly affect how that unfolding disaster will be interpreted by broadcast news.
JOHN ELLIS is Professor of Media Arts at Royal Holloway University of London.  He leads the ADAPT project on the history of technologies in TV, funded by a €1.6 million grant from the European Research Council. He is the author of Documentary: Witness and Self-revelation (Routledge 2011), TV FAQ (IB Tauris 2007), Seeing Things (IB Tauris 2000) and Visible Fictions (1984). Between 1982 and 1999 he was an independent producer of TV documentaries through Large Door Productions, working for Channel 4 and BBC. He is chair of the British Universities Film & Video Council and also oversees the Royal Holloway team working on EUscreen.  His publications can be found HERE.