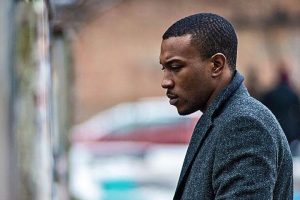 "I haven't anything to be – except this."
Dushane, Top Boy (Channel 4, 31.10 – 3.11.11)
Channel 4's Top Boy ended last night after less than 4 hours of screen-time.  Efficiently and economically dramatizing the lives of black youths on a Hackney Estate, it is the kind of drama that has come to exemplify British TV.
Hyped before transmission as the UK's answer to The Wire, Top Boy was written by novelist and Hackney resident, Ronan Bennett, who spent two years interviewing gang members and was inspired to write the screenplay after watching a child deal drugs.
Less a UK version of The Wire than a glimpse of east London hell, Top Boy traces the story of Ra'Nell (Malcolm Kamulete), a 13-year-old whose mother Lisa (Sharon Duncan Brewster) is hospitalized following a nervous breakdown.   Over the course of four nights Ra'Nell's story sees him dodging the East End nightmare that is drug dealing and gang violence.   That life is tough on an east London council estate is chillingly depicted through his simple storyline.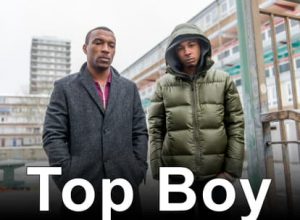 Other lead players in the drama, Ashley's Waters', Dushane, rapper Kane Robinson's, Sully, Kierston Wareing's Heather and Giacomo Mancini's, Gem, take us on a tense, introspected journey into the twists and turns of life on a sink estate.  That there is never any other option once you are in the thick of it is made clear as Dushane, keeping his morals as intact as is possible, states 'I haven't anything to be – except this'.  Was The Wire ever this bleak?
Part of the power of Top Boy is that, in contrast to its American counterpart, it never has enough time to be anything other than intense.  Whereas The Wire had five seasons to develop long-running narrative arcs, meandering storylines and delayed pay-offs, Top Boy was always going to be tight and focused.  Whereas American series can often let a storyline dangle for seasons before tying up the loose ends, British series rarely have that luxury.  And whereas American series enjoy a large ensemble cast with multiple interactions, British series most often focus on a few main players, thus adding to its narrative tension and intensity.
But does this make British series 'less than' or 'better' than American?  Are our US cousins winning in the series game?  Especially the likes of HBO who have had such huge hits as The Wire and more lately Treme and Boardwalk Empire?  More to the point, why is it that there is this compulsion to compare British series to their American 'versions'?  Before Top Boy it was the BBC's Shadow Line (a seven-parter that aired in May/June earlier this year) and before that Luther starring Idris Elba, The Wire's Stringer Bell.
But, in the battle of the ratings, which after all lies at the bottom of all TV agendas, shows like Luther have it.  We may not have the amount of money to spend on TV series, and people may like the extravagant narratives of American versions, but it seems that the Brits will remain ever faithful to their own national versions as audience figures for Top Boy prove.
And, in the end this is what is important.  With HBO series tied up by Sky Atlantic and Internet downloads chipping into viewing figures, free-for-view TV is increasingly forced to look closer to home, importing European series like The Killing, Wallander and Spiral and putting money into our own dramas like Downtown Abbey, Luther and Top Boy.
After all the hype and claims for realism, the complaints about whether Hackney life should be portrayed in this way and whether series like Top Boy glorify gang-life, homegrown series show that there is still life in British TV drama departments.   And surely this is something for us to celebrate.
---
Kim Akass is a lecturer in Film and TV at the University of Hertfordshire, Managing Editor of EUscreen and webmistress for CSTonline.  She is one of the co-founding editors of Critical Studies in Television, a co-editor of the Reading Contemporary TV Series (with Janet McCabe) for I.B. Tauris.  She has written widely on US TV and is currently researching a book on representations of motherhood in the media.