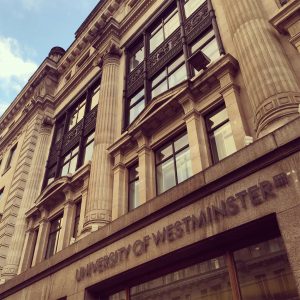 At most screen and media studies conferences television scholarship is too often relegated to a single session or superficially dealt with as a contributory example when discussing broader industrial developments. However, the University of Westminster's recent TRANS-TV conference focused solely on the specific and yet expansive notion of "transformations" in television. This included evolutions in television industries, in consumption practices, in the construction and depiction of television narratives and identities, and in transnational and transmedia systems. The conference, co-organised by UoW's Centre for Research and Education in Arts and Media (CREAM), Communication & Media Research Institute (CAMRI) and Westminster School of Media, Arts and Design (WSMAD), drew not only European television scholars, but academics representing institutions – and industries – from as far flung as Cape Town, Montreal and Melbourne. While the conference consisted of both theoretical/analytical and industry/production studies stream, these were often brought together during keynotes, plenaries and roundtables, and during post-presentation discussions. Though the papers wide-ranging in both methods and objects of study, several key themes emerged across the three days of TRANS-TV 2017.
SVOD and viewing practices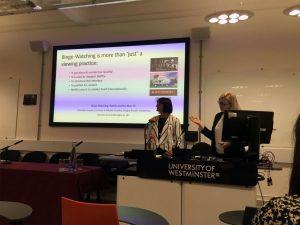 Tanya Horeck and Tina Kendall's plenary session considered the uses and limitations of Netflix's binge-watching model, particularly the distinction between "binge-worthy" and "binge-able" content, and the diegetic and structural importance of binging as part of a text. Their critique of this often-celebrated viewing practice was illuminating, and together with the subsequent session on new approaches to binge watching, it really set the scene for various examinations of digital distribution and engagement at the conference. There were numerous insights provided into the diminishing attention spans of audiences, the continued significance of algorithmic culture and recommendation systems, and the increasingly problematic nature of locating television audiences online.
Transnational media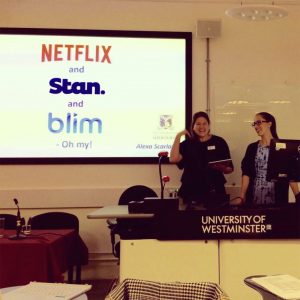 On that note, the significant impact of new global platforms on production, dissemination and consumption certainly gave the conference a transnational feel. Several scholars questioned the production processes and branding strategies of international outlets like Amazon and Netflix. This generated discussion about whether this is leading to a wider transformation of the very definition of the television medium itself, as well as facilitating new forms of transmediality and transnationality. Interestingly, scholars from Australia, Mexico, Taiwan, Norway and Denmark also offered national case studies, considering how the technological and cultural experiences of the traditional television medium have been dislocated and developed in these locales. These papers were dispersed throughout the conference, which was problematic, but their inclusion nevertheless helped remind us that television today does not begin and end with Netflix.
"Art-TV"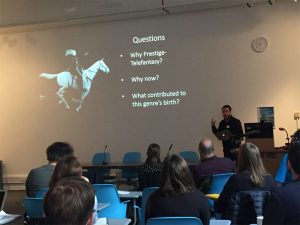 By a variety of names, including "Art TV", "Quality TV" and "Prestige TV", aesthetically ambitious programming (often with an eye towards critical praise) was a frequent topic of papers. The complex visual and aural spectacle of a variety of recent televisual programs was discussed by Henrik Hoejer, Helle Kannik Haastrup and others. Whether it was appropriate to link these aesthetic expressions to histories of blockbuster film, television, art cinema, or all three was not yet clear. Critiques of the supposed newness of the third (or fourth?) golden age of television abounded, even as the creative and budgetary freedom given to creators by digital streaming providers and their competitors has allowed non-traditional programming to become more and more common across both mainstream and niche television services.
Social TV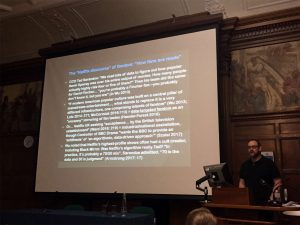 Matt Hills' keynote kicked off the conference and tackled 'multi-discursive' fandoms through the lens of Black Mirror fans' Reddit threads. Case studies in which television audiences communicated around, during and through their favourite programs were analysed in several papers throughout the rest TRANS TV. Christine Singer looked at how South African audiences had tweeted along with the edutainment phenomenon Intersexions was presented alongside Niki Strange and James Bennett's inquiries into Twitter and the production process of as-it-happens social media content for live reality television broadcasts. The growing transmediality of television was highlighted by Andreas Halskov, comparing the two eras of Twin Peaks (a popular object of study across the whole conference) and their complex incorporation of actors, fans and narrative.
Post-TV/Industry Perspectives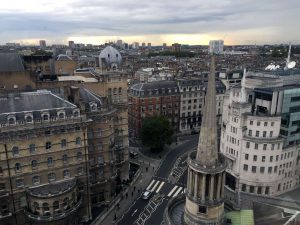 Ultimately (and perhaps tellingly) as a Television Studies conference, TRANS-TV was forced to deal with the burning question for the field: are we moving towards a "Post-TV" landscape? In her provocative keynote, Amanda Lotz asked attendees to consider reframing their object of study as 'audio-visual media' and thus remove the definitional obstacles that often frustrates Television Studies research. Given how many conversations at the conference dinner that evening revolved around this provocation, it certainly worked! Interestingly, while scholars at the conference seemed willing to consider that "traditional" TV might be on the way out, the industry panel members seemed incredibly optimistic about both the artistic state of the medium and new digital technologies revitalising qualities for television. On that note, there were numerous calls, amongst the conference participants, for the inclusion of more industry representatives at future iterations of TRANS-TV.
Conclusions
The ambitions of the TRANS-TV conference were certainly lofty! It attempted not only to collect a wide range of television scholars under one roof, but ask them to critically reflect and perhaps explain many transitional moments occurring in both industry and academic research. Given the number of potentially competing areas of interest, including changing viewing practices for audiences and radical new business and production models for producers, coherent and productive conversations managed to emerge throughout the event. While the global television landscape certainly seems to be changing, there remained a reluctance to truly move away from the media essentialism which separates film from television and radio from podcasts, even as each of these forms bleed into one another in the minds of scholars and audiences alike. Interestingly, one of the most compelling presentations from the conference was not a traditional paper at all, but Jaap Kooijman's video essay which played like a vibrant megamix of gay and lesbian visibility across television's history. He suggested that new directions in television production and distribution might do more than just provide creative freedom for artists, and could also allow for a more diverse space of representation across the landscape of what we are for now still calling "television".
---
Andrew Lynch and Alexa Scarlata are postgraduate students at The University of Melbourne, Australia.