The latest season of Sherlock concluded on January 15th in its unfortunately characteristic vein of ill-conceived pyrotechnics, scarcely-credible plot lines and levels of reality that test the patience of its viewers. With 'The Final Problem,' co-creators Mark Gatiss and Stephen Moffatt should do what Conan Doyle was never quite able to, and finally retire the detective.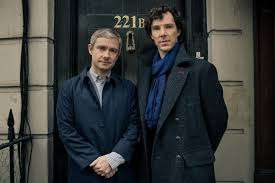 Yet it wasn't always this way. In 2010, when the show first aired. Sherlock was a witty take on Conan Doyle's world transplanted to 21st-century London. No longer was Sherlock Holmes a Victorian relic forever preserved in the starchy confines of the period drama. Holmes was, as Gatiss and Moffatt stated, 'a man for our times.' Viewers were tickled with knowing references to John Watson's well-received blog, and episode titles that riffed on Conan Doyle's original stories (much like the title of this very piece). After an excellent first season, however, the postmodern archness soon palled, giving way to incredulous plots featuring the gurning Andrew Scott as an unlikely Professor Moriarty, who was supposed to have orchestrated the crimes that Holmes had hitherto encountered.
Even this ruse did not sate this show for long. In its Victorian-costumed special in 2016, Holmes' ghostly assassin turned out to be a drug-induced hallucination (an army of suffragettes, no less – female characters have never been the show's strong suit). Characters die, and come back to life, friendships and broken and swiftly remade. Even Holmes' Baker Street abode is blown up, and never spoken of again. Faced with these drastic, yet affectless developments, even established viewers can't hope to trust that Mary Watson and Moriarty, really are dead, not least when they pop up on DVD and recorded voices at convenient intervals. New audiences, perhaps intrigued by the months of trailers and rumours that led up to its broadcast on New Year's Day, must surely have been baffled.
Although a significant share of Sherlock's decline can be attributed to the hubris of its writers, the BBC deserves its share of the blame as well. Saddled with a 90-minute broadcast slot, Gatiss and Moffatt must have felt compelled to add just another couple more twists in order to make the story fit its primetime spot. In 2010, when the show was a bit of a punt for the broadcaster, it made sense for producers to hedge their bets with a short-run series. Though granted a prestige slot (9pm BBC1), it could be quickly brushed under the carpet if the show proved to be the turkey it has now become. But even in the context of "prestige" drama, a 90-minute slot is highly unusual, as is the limited number of episodes in each season. What's more, the US broadcasters, one of the BBC's most lucrative export markets, openly state that they scythe through episodes in order to fit them into their preferred 60-minute broadcast length.
So what's the point? My guess is that the 90-minute episode length appeals the show's brand (and possibly the writers' egos) as a prestige production that marks it out from other 'quality' detective shows, not least Elementary, the series in which Sherlock Holmes is transformed into a one-man CSI New York. Here, the writers must dance to the narrative rhythm supplied by CBS' numerous commercial breaks, which in practice, means some form of cliff-hanger every 8 minutes. However, the series at least understands that its hero is above all a detective, whose appeal lies in his ability to solve crimes.
Much has been made of Ralph Jones' criticisms aired in The Guardian soon after the first episode of this series was broadcast. Seeing the gunplay, explosions and Mary Watson's past as part of a troupe of assassins, Jones charges that Sherlock Holmes is swiftly morphing into James Bond. And this was even before Holmes, Mycroft and Watson helicopter their way to a villain's isolated prison off the coast of Scotland. Let's leave for a minute Gatiss' bizarre decision to respond to this in the paper's letters page in free verse.
More irritating than these affectations was the series' overt focus on Holmes' emotional growth. Interviews before the show's broadcast with Benedict Cumberbatch and Martin Freeman pointed to Sherlock being "less of an arsehole this time." The first series contained Holmes' memorable assertion that he was in fact a "high-functioning sociopath," whose predilection for serial killers (because they're interesting) made him a creepily ambiguous presence. In contrast, this series is at great pains to point out the strength of Holmes' friendship with Watson, and the series concludes with his affectionately bouncing a toddler on his knee. I am reminded of the well-known maxim of Seinfeld writers, Larry David and Jerry Seinfeld: "no hugging, no learning," which ought to have been observed here.
The series is not without its merits: Cumberbatch and Freeman remain excellent in their roles, and "The Lying Detective," featuring Toby Jones as a Savile-like murderer was compelling viewing(although still contained many of the irritations described above). Sherlock has admirably shown that that the detective remains a source of intrigue for modern viewers, not least as a vehicle for portraying a highly exportable London cityscape. Let's hope that Gatiss and Moffatt are not permitted to conjure up yet another alternative universe.
Dr Frances Smith is a Teaching Fellow, and Convenor of the Writing Lab at University College London. In addition, she is Assistant Professor of Screen Studies at Syracuse University, London, where she leads a course on the film and television adaptations of Sherlock Holmes and James Bond. She has published a number of journal articles and book chapters on gender and popular culture, and is the co-editor of 'Refocus: the Films of Amy Heckerling' (Edinburgh University Press, 2016). Her monograph, 'Rethinking the Hollywood Teen Movie,' (Edinburgh University Press) is due to be published later this year.
Email: frances.smith@ucl.ac.uk