This blog is primarily inspired by Christine Geraghty's recent CST post 'Re-Appraising the Television Heroine' and also what Douglas Howard refers to as the 'crossroads' that has been reached in US quality television. It takes its title however from the article 'Difficult Women: How Sex and the City Lost its Good Name' by TV critic Emily Nussbaum (July 2013) which itself is a response to Brett Martin's (Penguin 2013) Difficult Men: Behind the Scenes of a Creative Revolution: From The Sopranos and The Wire to Mad Men and Breaking Bad. All of this research, with the exception of Geraghty's, is concerned with two things: First, the so-called creative revolution from the late 1990s onwards that has occurred in US cable television and resulted in what many believe to be a golden age of programming. Second is the dominance of male voices and masculinity both within those programmes that have been elevated to canon status and the surrounding media discourse which has served to either ignore or diminish the contribution of women or female-centred programming to the revolution. As Nussbaum explains, 'there's something screwy about the way The Sopranos and its cable-drama blood brothers have come to dominate the conversation, elbowing other forms of greatness out of the frame.' For example, despite crediting Sex and the City for jumpstarting HBO in 1998, Nussbaum notes that Martin's 'condescension is palpable' as he dismisses its characters 'as types as familiar as those in The Golden Girls: the Slut, the Prude, the Career Woman, the Heroine.' With this in mind, she goes on to ask why has the reputation of The Sopranos continued to soar while Sex and the City has 'shrunk and faded.'
The intention of this blog is not to answer Nussbaum's question, as she eloquently puts forward her own arguments in the article, or focus on Sex and the City, but to rather offer some reflections on female contributions to quality TV and ponder its current status and near future. For this, I begin by returning to Geraghty's work and the ways in which she takes issue with some of the dominant discourses currently circulating around 'quality' television. In the first instance, rather than simply take as her focus a particular kind of US television, Geraghty's blog reflects on her own viewing experiences of both UK and US drama, ranging from the British detective series Scott and Bailey (ITV), crime serial The Fall (BBC2) and mini-series The Politician's Husband (BBC2) to US drama The Americans (FX) [she also mentions but does not dwell on another mini-series, Jane's Campion's international co-production Top of the Lake]. Geraghty is interested in the ways in which each of these programmes put forward various examples of women on and off screen who may fulfil the role of 'television heroine,' an approach which chimes with my own concerns as discussed in a previous CST blog. Indeed, having recently watched The Fall, The Politician's Husband and The Americans myself, many of her arguments resonated, particularly in relation to Keri Russell's character Elizabeth in the latter; a strong, resourceful, passionate and distinctly complex heroine who is more than equal to husband and fellow undercover Russian spy Philip, played by Matthew Rhys.
What is interesting about Geraghty's choices are that they are not bound by specific generic parameters or institutional prestige, encompassing the conventional drama Scott and Bailey broadcast on the often maligned ITV, three-parter The Politician's Husband and the aforementioned spy drama The Americans, when all too often the conversation is restricted to premium cable programming broadcast by HBO or indeed Sky Atlantic on this side of the pond. Geraghty points out that, although perhaps conventional in its plotting, Scott and Bailey is refreshing in that all eight episodes are created, written and directed by a woman and that, at various points, we see entire investigations conducted by women, a situation she describes as 'still unusual enough to notice.' I had a similar reaction when finally catching up with the second series of BBC2's The Hour, written by Abi Morgan and in which Romola Garai, Oona Chaplin and Anna Chancellor more than hold their own opposite critically acclaimed actors Ben Wishaw, who played Hamlet aged just 23, Dominic West, The Wire's very own McNulty, and Peter Capaldi, the fearsome Malcolm Tucker and latest incarnation of Doctor Who. Of course, The Hour has since been famously cancelled by the BBC only for Morgan to win an Emmy for best writing in a mini-series. The corporation has now commissioned her new drama focusing on troubled male police officer John River.
It is perhaps no surprise that Geraghty focuses on a wide spectrum of drama given her pioneering research on soap opera and indeed the second issue she often highlights in relation to current scholarly work around quality television is that it fails to look at historical precedent within other genres when proclaiming certain techniques as new and innovative: 'People witter on about The Wire and Mad Men . . . It drives me mad. British soaps were doing those complicated multi-layered narratives long before HBO was invented' Geraghty states in The Guardian. My own work on sitcom also suggests that generic labels often preclude certain programmes as being part of a dominant narrative or canon, and in fact its status as comedy may be well be one of the reasons why Sex and the City appears to have 'shrunk and faded' within the discourse of quality television in a way that The Sopranos never will.
This brings me to another CST blog, Douglas Howard's 'Quality Television: The Next Generation,' which suggests that some sort of 'crossroads' has been reached 'by the end of so many important and influential television shows within the next year or so,' such as Dexter, Breaking Bad, Mad Men and Sons of Anarchy, not to mention those that are already over, The Sopranos, The Shield, Lost, 24, Deadwood, Six Feet Under, The Wire, Rescue Me and House. Noting that there's 'plenty of quality programming still to be had, from Sherlock to Justified to Homeland,' Howard argues that the theme or mantra of the shows cited above, if there is one, is that they have 'explored the moral complexity of the world and forced us to come to grips with it by getting us to like characters who are inherently reprehensible or asking us to sympathise with good people doing bad things.' Thus, he asks 'once we are ready to move on from these morally problematic figures, where would we go?' While I do not necessarily disagree with Howard's assessment, I do want to highlight two things. First, is it just quality drama that asks us to like unsympathetic characters or can we also point to Larry David in Curb Your Enthusiasm, his predecessor George Costanza of Seinfeld, and of course the often hard-to-empathise-with males and females in Lena Dunham's Girls. Second, of the programmes Howard lists, both in the recent past and present, all were created by men and only one features a central female protagonist in the form of Carrie Mathison in Homeland; thus following Martin's Difficult Men narrative. What I immediately start to think of is the alternative programming that could appear on such a list, such as Damages, Nurse Jackie, The Big C, Scandal, Weeds, Orange is the New Black and of course Sex in the City, Girls, Nashville and The Americans. Whether by design or default, the discourse of quality television revolves around male authors, characters and premium cable channels leaving the distinctive voice of Callie Khouri for example, and the female-dominated world of country music she has created for ABC, in the shadows. But perhaps this is what's next. Perhaps complex female voices both on and off screen broadcast on cable and free-to-air television is the future.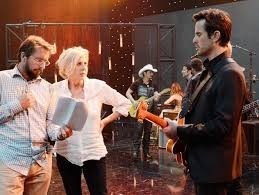 I want to finish therefore by pondering further this notion of an alternative history of quality TV and of what comes next. In his review of Martin's Difficult Men and Alan Sepinwall's (Touchstone 2013) The Revolution was Televised: The Cops, Crook, Slingers and Slayers Who Changed TV Drama Forever (the latter of which, thankfully, includes The WB's Buffy the Vampire Slayer in its analysis along with Syfy's Battlestar Galactica and NBC's Friday Night Lights, showing of course just how subjective this area is), Philip Maciak (August 2013) highlights a brief anecdote and very pertinent question posed by Sepinwall, which I will quote at length:
It could've been Winnie Holzman. In the late 1990s, executives at HBO gave veteran TV scribe Tom Fontana a blank check to create a dark, violent, virtually unmarketable show about an experimental wing of a maximum-security prison. The short version of this story is that HBO's experiment worked, and, around 1998, they were looking to give out another one of those blank checks. The final list of possible beneficiaries came down to two people: David Chase, veteran of The Rockford Files and Northern Exposure and Holzman, creator of My So-Called Life and veteran of thirtysomething. Holzman had a pitch about a female executive; Chase had a pitch about a gangster. We all know how that shook out.
But imagine if HBO had gone with Winnie Holzman. Instead of Chase . . . it could've been Holzman and whatever she could do with the boundless creative freedom and financial support of premium cable. Imagine if the show had focused on a powerful woman rather than a powerful man, a businessperson rather than a murderer, a potential hero rather than the anti-hero who begat a thousand sons from Vic Mackey to Ray Donovan. What if HBO – a network that currently has a single series on air with a female showrunner and only one in development – had put their revolution in the hands of a woman?
I'm tempted to finish here as Maciak makes his point so well but the reference to Holzman makes me think of Claire Danes of both Homeland and My So-Called Life so I shall continue.
Although written by two men, the character of Mathison was created with Danes in mind and there is no doubt that her performance is integral to the success of the series and complexity of the character. Likewise, Holzman changed the format of My So-Called Life to accommodate Danes in the role of teenager Angela Chase, as Danes herself was then only thirteen. In his excellent profile of the latter for The New Yorker, John Lahr (September 2013) explains the relationship between the two women from the perspective of novelist and TV writer Richard Kramer, who also worked on the series: 'Winnie wouldn't be Winnie without Claire . . . And Claire wouldn't be Claire without Winnie.' More significantly, Kramer 'places Holzman's writing for the show on a continuum of original television voices that leads from her to Mike White, Larry David and Lena Dunham.' Yet Holzman remains absent from narratives of quality television perhaps because she has yet to secure that big commission from a premium cable network and perhaps due to those comedic comparisons. Danes on the other hand was unsatisfied with the roles she was being offered until she played autistic professor and animal-welfare activist Temple Grandin in an HBO movie, which then brought her to the attention of Homeland's creators Alex Gansa and Howard Gordon. At the time, she was considering a supporting role in Clint Eastwood's movie J. Edgar as the title character's secretary and explains to Lahr the situation she found herself in: 'Here was this FBI story and I was thinking about it in the same weekend as this CIA story . . . I was thinking, you know – I could be the secretary or I could be Hoover.'
I hope the next wave of quality television will involve the latter, with women playing central roles both on and off screen and, if any publishers are reading, then I'll happily sign up to write an alternative history of television's 'Difficult Women.'
Lisa W Kelly is a Research Associate at the Centre for Cultural Policy Research at the University of Glasgow. Her research includes work on television sitcom, particularly within the post-network era, and business entertainment formats such as The Apprentice and Dragons' Den. She is co-author (with Raymond Boyle) of The Television Entrepreneurs: Social Change and Public Understanding of Business (Ashgate, 2012) and is currently part of an AHRC-funded project examining film policy and the history of the UK Film Council.