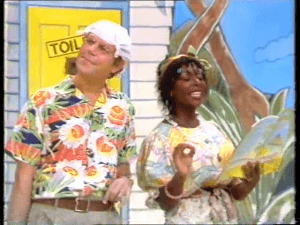 There's a general rule of thumb about the BBC Archives recognised by fans of old television – that we can confidently expect programmes from after late 1977 to survive. Thanks to the good work of Sue Malden in establishing BBC Archive guidelines, it was only at this time – rather late in the day in terms of recording technology – that a policy of systematically preserving BBC TV programming came into being. A look at the 1977 holdings of weekly pop show Top of the Pops (1964-2006) provides a vivid demonstration of the process in action, and proves its immediate value. August and September episodes are still missing, featuring an unexpected studio performance from Television (miming 'Prove It') and an early appearance by The Jam that would certainly still be of historical significance and interest if only they had been kept. The first three Top of the Pops editions that start the complete run of surviving episodes include a wealth of performances that have demonstrated the value of their preservation by being shown several times since (from, for example, Dr Feelgood, Rose Royce and The Stranglers).
While there are still some gaps in the holdings (mainly regional programmes that were never kept in the main archive) this rule holds true if you're interested in drama or comedy or news. The one glaring exception is children's television, thanks to two notorious purges in the late 80s and early 90s.
The housecleaning only affected some programmes, deemed to be unexceptional television. Dramas and situation comedies – which could still be repeated or sold – were undisturbed. Blue Peter (1958-present) had always had a farsighted champion of archival retention in producer Biddy Baxter and its complete survival from 1967 formed a precious resource not to be tampered with. The swathes of lost shows fell in the category of everyday programming such as quizzes and magazine programmes (Animal Magic, Take Hart, Why Don't You, Screen Test, We Are the Champions, Finders Keepers with Richard Stilgoe) and pre-school shows (Play School, How Do You Do, Ragtime, Playboard).
The reasoning behind these clearances was because of finance and space rather than malicious intent. The major casualty of the late 80s purge was the pioneering three-hour Saturday morning show Multi-Coloured Swap Shop (1976-82). Swap Shop programmes were usually recorded off air onto two 90 minute 2″ spools. The Deputy Head of Children's Programmes Roy Thompson allowed many of these to be sent to Australia where they were sold for re-use, Australian broadcasters still using expensive 2″ videotape in the late 80s, and as the programmes were live shows, the spools were unedited and therefore fine for recycling. The programme's unrepeatability and money generated from the sale of these spools (and other shows like Noel Edmonds' Lucky Numbers) justifying the decision. It is hard not to see this junking as short sighted in retrospect, more for the negligence of not making any copies than allowing the original format to be wiped. Although the whole programmes were not reusable, a cursory glance at their contents (including performances and interactive phone-in chat show material) would have revealed material of obvious commercial and historical value. The loss of a valuable archive of pop performances and interviews (featuring Blondie, XTC and many others) is particularly unfortunate, and the absence of many features that covered other contemporary BBC programmes of interest to children (for example, an interview with Trumpton creator Gordon Murray) is especially galling for TV historians.
The 1993 junkings occurred because one of Sue Malden's successors, Adam Lee, was faced with a situation where there was a financial shortfall to pay for 2″ transfers. He chose to wipe a number of tapes because he felt they contained little cultural value. Among the wealth of programmes wiped at this time were a great number of (afternoon nursery programme) Play School (1964-88) editions. His argument being that they would never be repeated, and one Play School is much like another. So does it matter if the BBC keeps 200 or 20 Play Schools if they have identical scripts and will never be repeated?
These arguments resurfaced in the recent launch of the BFI's five-year digitisation programme for its entire collection of 600,000 videotapes at risk of obsolescence or deterioration. Press coverage concentrated on the preservation of material with less evident claims to posterity such as Border Television's daytime couples quiz show Mr & Mrs (1967-88) or (children's fox puppet) The Basil Brush Show (1968-80). Who could possibly say what a representative or exemplary episode of these shows might be? It makes better sense to retain everything, even if its difficult to imagine the circumstances under which it might be called up again.
These two questions (wiped 'ordinary' children's television of the 1980s, and the value of preserving unremarkable television) were suddenly brought into an unexpected and extremely personal focus for me at the end of last year, when the TV Archive organisation Kaleidoscope announced a list of their discoveries from 2016. The headline recoveries from these hundreds of shows and extracts were episodes from the first series of The Avengers (ABC 1961-69) and Z Cars (BBC 1962-78), shown for the first time in five decades at BFI Southbank in December). Much less heralded were the resurfacing of a few editions of a victim of the 1980s/90s BBC purges, children's revue show Play Away (1971-84).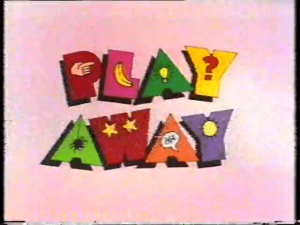 An offshoot of Play School made for slightly older children, Play Away is the sort of show that its hard to make great aesthetic claims for, consisting of gang-show standard sketches and songs and schoolboy howler jokes of Christmas cracker calibre. A more convincing claim to posterity might be its significance in capturing of a particular moment in children's education, a living illustration of what expectations a particular generation of children's broadcasters held of what children might enjoy.
You can see this particularly in the responses of Play Away's studio audiences, made up of inner-London school parties, and much incorporated into the programme in order to involve and engage child viewers at home. And this is where I come in, because the audience of one recovered episode (Series 12 Episode 6) is my class at primary school! This was recorded at Television Centre in the autumn of 1982 when we were nine and ten. The production office had invited us all to make hats in our class for Floella Benjamin's carnival routine, which is why they put us in the front blocks of TVC studio seats. Cutaways and reaction shots of my class continually punctuate the episode, including (at about 18.56) myself.
As these are the only moving pictures that exist of me as a child, seeing them again after 34 years has been evocative and surprising. Its only a few seconds, but I think that my appearance has taught me something I wouldn't have otherwise realised about how I must have been as a boy. The way that I instinctively come up with a response to the routine when I receive the apple is the sort of detail that can only come from a clip like this. (I also had the odd experience of walking past a television showroom in Lewisham and fleetingly seeing multiple images of myself in the shop window display when the show was repeated in the summer of 1984)
I can remember who everyone in the class was, but being able to see us as we must have looked to grown-ups at the time has had an odd effect, like being able to view my memories from another angle and reconsider them. You get little clues as to personality from how each child deports themselves and reacts – the boy who reaches desperately out to be given something at the end of the routine is acting wholly in character, for example… I'm from the very last generation before home video, let alone the personal film archive of childhood that many contemporary children hold, but the formality (and technical properties) of our being recoded within an actual television programme is also qualitatively different from any home movie footage.
My own experience of being reintroduced to my primary school class via this modest programme acts as an illustration of the wider value that any piece of archive television, however seemingly inauspicious, may hold some deeper meaning for someone involved.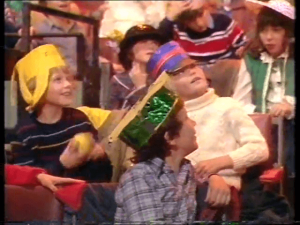 Billy Smart is Research Officer at the AHRC-funded 'Forgotten British Television drama: 1946-1982' project at Royal Holloway.