The end of my university career approaches as a result of my (reluctant) acceptance of voluntary redundancy. I will finish in November 2017 after 25 years of teaching media at the University of Waikato. There is a bigger picture; by leaving in November, my colleagues will not have to go through a demeaning process of re-applying for their jobs. But they will also be hard pressed to cover all our courses and satisfy student demands.
In anticipation of departure, I have begun a process of evaluating and discarding stuff from an office packed full of it. This first job is to empty three shelves of clear-file folders; records of conference participation dating back to last century. I am not sure why I have kept these. Perhaps I thought I might refer to them again one day but disposing of them is certainly more labour intensive and possibly more stressful than dumping files from a computers. So many conferences! So many memories and so much forgotten!
Going through this stuff reminds me of some particular events, including a conference when I first met the esteemed Kim Akass. It was a conference on Quality American Television at Trinity College in Dublin, which led to an edited collection, but what I remember most about that event were the disapproving stares from the portraits of various Irish luminaries which lined the walls of the Hall.
There are also some surprises in these folders. In the back of one, I found a small stash of foreign currency, from a stop-over in Asia. In another folder, I found the photograph below. It is not a very good photo but it is worthy of a transcription here,
Marilyn Monroe's personal TV set, displayed in this living room tableau, was purchased by the MZTV Museum of Television at Christie's (N.Y.) auction entitled "The Personal Property of Marilyn Monroe", October 28, 1999, The final purchase price was $45,500 CDN (including commission and taxes). The stylish copper-finished cabinet, black and white picture tube and dusty chassis remain in original working condition. It only requires minor electronic restoration to operate safely.
According to Toronto's MZTV Museum of Television & Archive, this 'precious set—displaying the inevitable wear and tear from Monroe's frequent travels—was in her Brentwood, California home the night she died in August 1962'. There are other television treasures in the MZTV Museum, which was established in 1992 by TV magnate Moses Znaimer), including the 1939 World's Fair "Phantom Receiver" and the largest collection of pre-war television sets in the world.
The fascination with MM continues unabated. In the same day I wrote this a feature article (sourced  from The Times ) appeared in my local newspaper about a new book Dinner With DiMaggio, about the marriage of Joe DiMaggio and Marilyn. According the author Rock Positano (Joe's former foot doctor), their marriage was rather climatic, in that 'When we got together in the bedroom, it was like the gods were fighting; there were thunderclouds and lightning'.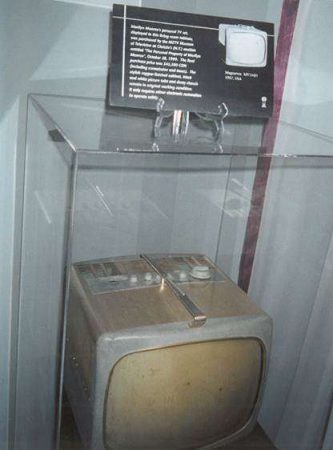 Presumably Joe and Marilyn's post-coital moments were spent watching this television set.  It does also raise the possibility of history and biography as portrayed through domestic furniture.  There has been good work about the television set as domestic appliance, such as the explorations of Lynn Spigel and The New Museum of Contemporary Art (New York) collection From Receiver to Remote Control: The TV Set (1990). When I watch Googlebox, I also take note of the arrangement of furniture around the various TV sets.
But I am thinking of the possibilities of other pieces of furniture and their role in the lives of important people. One the most curious items I ever encountered in a museum was in Tampere, Finland. An unremarkable sofa boasted a sign, indicating this is where Lenin and Stalin first met, to sit and plot the overthrow of the Western world.
I am sure people will know of other examples of furniture as history and I welcome contributions below.
---
Geoff Lealand is Associate Professor in Screen and Media Studies, University of Waikato, New Zealand, where he teaches and writes about world cinema, television, children and media, and media education. You can check out his current research activities HERE. A yet to be fulfilled ambition is to watch all episodes of The Wire. He has been writing various pieces based on his research on Shirley Temple 'double' contests held in New Zealand in the 1930s; most recently including these investigations of cultural memory and fandom into his contribution on the child star in the Routledge Companion to Global Popular Culture, edited by fellow-CST contributor Toby Miller.