You may have read about or seen VH1's reality show Cartel Crew, which began in January and is entering its second season. The Crew cast is formed of close relatives of dead or imprisoned narcos. These offspring may themselves have been in the joint, or benefited directly or indirectly from their parents' illegal wealth, but now, they are putatively on the straight and etc. Michael Corleone [yes] Blanco is prominent—he's there because his mom killed over two hundred people during her reign of terror—Griselda Blanco de Trujillo, the "Cocaine Godmother" portrayed on screen by Catherine Zeta-Jones.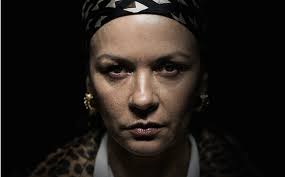 As the LA Times explains, Cartel Crew is pretty standard fare, in two ways—it is part of Hollywood's eighty-year-and-counting glorification of mafia killers, and it involves equally predictable contretemps and their resolution between the participants in the reality genre, plus deep and meaningless exchanges between BFFs.
Last Monday's episode featured, for the first time, Emma Coronel Aispuro. Her husband is Joaquín Guzmán, better known as "El Chapo." She was represented in El Chapo, a miniseries co-produced by Univision and Netflix.
In the words of Senator John Kennedy's protest against the series, Guzmán is:
the single most dangerous individual of our time, having created and led the Sinaloa Cartel on its destructive path of trafficking drugs and people for decades. Since establishing his crime syndicate in the late 1980s, El Chapo has been responsible for the deaths of hundreds of thousands of people, both through direct violence and the devastating impact of drug addiction. At one point in time, El Chapo was on the Federal Bureau of Investigation's World's Most Wanted Fugitives List, second only to Osama bin Laden.
The alibi given for Coronel's appearance is that she wants to share her pain with fellow-sufferers (from stigmatization) and to follow Michael Corleone Blanco's model. He sells clothing, cellphone covers, and coffee cups branded with his mom ('We have businesses, like every other American… We're trying to live the American dream, you know?'). The line is called Pure Blanco. It is diversifying into cannabis. Coronel wants to emulate this success with clothing etc named after her husband.
VH1 started out life as Video One Hits. It was a nostalgic knock-off that traded on MTV's success. Both of course transmogrified into peddlers of reality programming rather than distended white male stomachs belting out power pop. Quite an improvement: as Michael Corleone Blanco says 'I'm all for J. Lo playing my mother. She was one of my original choices. Catherine Zeta-Jones' project was great as well. I'm all for it. Anything that I can lend consultation on my life. As long as it's a lucrative project. … As long as the story is told correctly from the horse's mouth.' Almost a motto for the political economy of reality TV, wouldn't you say?
And the verdict on Coronel's debut? Rupert Murdoch's New York Post deemed it 'classy.' The Washington Post noted, more soberly, that her husband had signed off on her use of his name to sell smartphone cases, frocks, and hats.
Here in Mexico, where someone is killed every quarter of an hour, many journalists reacted with horror at any glorification, or even humanization, of such people, be they money launderers or courtiers of the horror that engulfs this country. In the words of Ioan Grillo, 'This is a sick and terrible decision by VH1 to have El Chapo's wife Emma Coronel on its reality show "Cartel Crew." There is a humanitarian catastrophe in Mexico from cartel violence. This is not a glamorous reality show. Where are images of mass graves?'
And Coronel? In the episode in question, she avows that despite the hardships she has suffered—and continues to experience—she will 'stay positive.'
This is required: each star of the show bleats an apologia pro vita sua with regularity and certainty, detailing how much they have to put up with; and how misunderstood they are.
So that's alright, then.
---
Toby Miller is Research Professor of the Graduate Division, University of California, Riverside; Profesor Invitado, Escuela de Comunicación Social, Universidad del Norte; and Professor in the Institute for Media and Creative Industries, Loughborough University London. He is President of the Cultural Studies Association (US).