I blogged last year for CSTonline about how shared conceptions of childhood facilitated links between television institutions and audiences across Europe, in case of the children's documentary series If You Were Me (BBC 1971-75). This blog follows up with some examples of how networks of borrowing and collaboration around Europe underpinned children's animation programmes from the 1960s to the 1980s. British television has always been more than simply national, and this seems like a good moment to recall how connected we have been to our continent.
Public service values across Western Europe, at least until the deregulation that took hold in the 1980s, meant that all major broadcasters needed programmes for children. Domestically made animation and selected imports provided relatively cheap programming that could be repeated in successive years. In Britain, we have a tradition of animation including Camberwick Green and its spin-offs (1966, 1967, 1969), Cosgrove Hall's Danger Mouse (1981-92) and the Australian émigré Bob Godfrey's Roobarb and Custard (1974) and Henry's Cat (1983), for example. But animation for children on British screens was dominated by US imports, some of them produced by offshore British labour. I watched Hanna-Barbera's Scooby-Doo, Where Are You? (1969-70), Josie and the Pussycats (1970-72), The Harlem Globetrotters (1970), and series based on pop celebrities such as The Jackson Five (1971-73) and The Osmonds (1972-73), for example. In the early 1980s the US company Filmation made longer series, such as He-Man and the Masters of the Universe (1983-85) and She-Ra: Princess of Power (1985-86). But despite the Cold War, Eastern Europe's animation studios also made programmes that were exchanged between countries, including Britain, as the examples below demonstrate.
Children's programming has been regularly traded at annual fairs or under the auspices of transnational organisations like the European Broadcasting Union. These exchanges were much easier in children's animation than for live action because the image track and the soundtrack's narration or character voices are separate. This allowed dubbing and re-voicing in different languages. Moreover, animation was usually made on film, not video, so the incompatible formats and recording technologies used across Europe were not a problem. But there were also shared assumptions about what children enjoy. For instance, broadcasters have assumed that children like puppetry and animation, that they identify with anthropomorphised animals, and that they enjoy songs and music. The rest of this blog gives four brief examples of how specific European programme exchanges happened.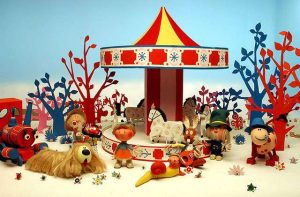 The Magic Roundabout
Although it is remembered as a British television classic, The Magic Roundabout (1965-71, 1974-7) was a transnational hybrid. It was produced by the émigré British animator, Ivor Wood, who worked at Serge Danot's French studios and it was broadcast in France as Le Manège Enchanté (1964). It was modified for screening in Britain, with completely different storylines and narration replacing the French originals and added ironic humour that targeted adults as well as children. But there were many similar stories of remediation that are less well known.
Barnaby
Barnaby (1973), like many other transnational hybrids, was based on a literary original, was produced with international collaborators, and was significantly changed in form and structure for different national versions. Barnaby was based on French books about the bear Colargol, written by Olga Pouchine in the 1950s, and which had been popularised by LP records of her stories in the 1960s. The television series, Les aventures de Colargol (1967-74) was made by the French producer Albert Barillé's company Procidis and Polish animator Tadeuzs Wilkoz at the Semafor animation studios in Lodz, Poland, with music and songs composed and recorded by French contributors. Production connected France and the Eastern bloc, and the series was screened in France, Poland, Norway and The Netherlands. Then the 53 thirteen-minute episodes were translated by the British animation company Q3, re-voiced and re-edited into thirteen Barnaby episodes for BBC. They were screened in a tea-time slot formerly occupied by another French import, Hector's House (La Maison de Toutou, 1965). The original French Colargol had a story arc, but more heavily edited versions, including the British one, disrupted the narrative progression and the programme became a series rather than a serial.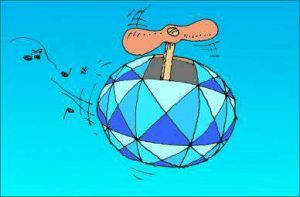 Ludwig
My third example raises issues of migration, and the integration of Cold War émigrés into British television culture. Ludwig (BBC 1977) was a British series created by the Czech documentary and current affairs director, editor and producer Mirek Lang and his son Peter, with scripts by the British writer Jane Tann and Czech émigrée Susan Kodicek. Mirek Lang came to Britain in 1968 because his documentaries were critical of the Soviet-supported Czech regime, but he failed to penetrate the British current affairs production culture. Instead the Langs worked on short animations, which drew them to the attention of the head of children's BBC, Monica Sims. The Ludwig series of five-minute episodes was commissioned by Sims and comprised the adventures of an egg-shaped creature whose exterior resembles the faceted surface of a diamond. He played music and drew pictures using mechanical limbs emerging from his shell, observed from the woodland bushes by a rather sinister man with binoculars.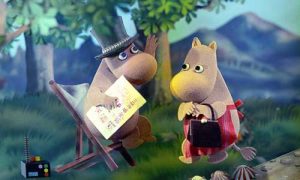 The Moomins
The Moomins, based on the Finnish writer Tove Jansson's books, was on ITV in 1983. It was made at the Polish Semafor studios from 1977-82 through a joint deal between Film Polski and the Austrian company Jupiter Films. After the peaceful Polish revolt against the Communist regime in October 1956, cultural policy increasingly allowed relations with the West. There were originally 78 ten-minute Polish-Austrian episodes (Opowiadania Muminków or Mumins), later re-shaped for German broadcast into 28 half-hour episodes titled Die Mumins (1980-81, 1983). These episodes were then heavily edited by the British company FilmFair for ITV as 100 five-minute stories. Because of the significant re-editing of the export versions, only the visual sequences could be used in their original form, and region-specific narration was added. Similarly, because the music had to match the visual sequences, music tracks were used differently, with an orchestral score in the Polish original, sparse synthesized music in Britain, and combined electronic and orchestral music in the Austrian version.
In children's animation, nationality is not a simple matter. Because of dubbed translation, programmes could easily be perceived as domestically made, but my examples and many other imports and exports crossed national borders and political boundaries. It's an interesting story, I think, especially for someone like me who was born in the 1960s and watched these programmes. But it's not all nostalgia. We should remember, perhaps now more than ever, how television is involved in the making, blurring and transformation of national and transnational identities.
Jonathan Bignell is Professor of Television and Film at the University of Reading. Some of his writing is listed on this web page, some is on Academia.edu, and many of his articles and chapters can be downloaded free from one or the other. This blog uses material that was first written for the books A European Television History and Children in Culture, Revisited, each of which takes ideas about national and transnational identity a lot further.