There's nothing as loyal as a prisoner fan (Val Lehman, 2019)
---
On June 25 a capacity crowd met at the St Kilda Town Hall in Melbourne – the city that is the home of iconic Australian television series Prisoner (1979-1986) – to celebrate 40 years since the show made its debut on Australia's Network 10. Prisoner's extraordinary 692-episode run is made more remarkable by the fact that it was commissioned as a 16-part standalone series. It has since spawned international remakes and reimaginings, perhaps most notably Wentworth (2013-), now in its seventh season.
Presented by the National Film and Sound Archive (NFSA) as part of the St Kilda Film Festival, the big draw was the presence of Val Lehman (Bea Smith) in a conversation moderated by Jane Clifton, whose past experience in radio, and present role as marriage celebrant, made her ideally suited to interview everyone's favourite top dog. She also just so happened to play the role of tough bookie Margo Gaffney for 357 episodes.
The event was introduced by the NFSA's Bronwyn Barnett who promptly produced a pair of black, leather gloves when warning us to turn off our mobile phones ahead of screening the newly digitised Episode 326 of Prisoner (which discerning fans will remember as 'The Great Fire of Wentworth').
This preserving of shows such as Prisoner is part of Deadline 2025, a large scale digitisation of magnetic media being undertaken by archives worldwide. In a follow-up email exchange with us, Bronwyn explains: "Although the NFSA has been working on digitising our analogue collection for many years, we have increased our rate of digitisation because of Deadline 2025 – a consensus amongst audiovisual archives internationally is that large-scale digitisation of magnetic media will not be able to be supported in the future". Supporting material on their website points out that much in the way of Australia's radio and broadcast recordings has already been lost, and what remains of our audiovisual heritage is too precious to let expire. Jessica Ford has noted that the prison setting of shows such as Prisoner "offers a way into questions that are at the heart of recent television studies" (2018), and while there are still many ways to view episodes of Prisoner, that these are being preserved digitally in the safety of the archive is good news for the discipline.
Episode 326 ends with Bea withholding from Joan 'The Freak' Ferguson the keys that could save them both from the fire, and as the closing credits rolled in St Kilda the tension was eased by an impromptu group singalong of the famous theme. (In the interests of full disclosure, the voices of some enthusiastic acafans may have been prominent in the mix.) This proved a fitting soundtrack to the entrance of Val Lehman and Jane Clifton.
Thanks once again to the NFSA, Clifton came prepared with a series of clips around which to shape her conversation with Lehman, and as any self-respecting fan would expect, her selection began with the famous laundry press scene from Episode 1.
Here began an ongoing slippage between Lehman the actor and Smith the character throughout the evening's conversation, as Lehman responded with a flinty defense of Bea's actions. She was doing Lynn Warner (played by Kerry Armstrong) a favour, she insisted. Bea knew that this relatively minor but very public punishment would see the other inmates satisfied this 'baby killer' had been dealt with and that Lynn would be henceforth left alone.
As Lehman and Clifton reminisced, the audience were treated to a raft of behind-the-scenes anecdotes that conjured up images of a lively, female-strong set over the seven years of the production. It was also discovered that more Prisoner royalty was sitting quietly among us; none other than Patsy King (Erica Davidson), who was of course called upon to stand for applause fit for a Guv'nor.
Clifton spoke of her envy of Lehman's speedy line-learning abilities; able to do her scenes in one take after only a cursory read of her pages, and of her delight when Bea Smith had a long monologue she knew Lehman had yet to study with moments to go (this schadenfreude backfired when Lehman was able to pull it off once the cameras rolled). Both spoke of their love of the various directors – this one who would let you get away with anything, that one would insist that every shot was a Rembrandt, and Lee Spence who was mad for a mirror shot. Despite Prisoner breaking ground in creating roles for women in front and behind the camera in Australia, as we have discussed recently, the audience learned that only one of the stable of 20+ directors was a woman – and she tragically died too young after having worked her way up from First Assistant Director to join the ranks.
We also heard how the female stars with Grundy's (production company) were paid less than their counterparts at rival production company Crawford's for their work on shows such as The Sullivans. Lehman negotiated her own raises and was eventually moved to become a union representative, proud to report that she helped change a number of standard items in actors' contracts, thus contributing to the industry as a whole. She noted, too, that none of the cast were paid residuals when Prisoner became the first Australian drama to screen prime time in the US. They had to sue in order to get their extra $80 per week – eventually. This is despite the impact of the show, which according to Lehman is evidenced by the letters she and other cast members received from prisons as far-flung as Alcatraz, thanking the show for humanising the plight of prisoners worldwide.
Another clip showed Smith at loggerheads with Clifton's character Margo Gaffney following the fatalities caused by Gaffney's interference in Smith's fiery plans to set up the Freak. As Sue Turnbull reminds us, "there was not one antiheroine [in Prisoner] but many, encompassing both the prisoners and their guards, whose narrative trajectories over the course of a long-running soap opera were at least as complicated as those of such recent criminal bad boys as Dexter Morgan (Dexter) or Walter White (Breaking Bad)" (2017, p. 183). We heard tales of how these women could be as transgressive off-camera as on, with a tradition of Friday afternoon boozing of which famous St Kilda resident Sheila Florance (Lizzie Birdsworth) was particularly partial. To ensure she made her cues, Lehman would squeeze her hand under the laundry sheets when it was time for Florance to say her line. Lehman didn't join the others in their Friday tipples but did once delve into the prop cigarettes – 'like smoking a tampon', bemoaned Clifton. When the young man on props dared to reprimand Lehman he got the full Bea Smith treatment, before she took it upon herself to secure sponsorship from a leading brand. That saw to it that she and, in particular, Sheila Florance, never had to buy their own cigarettes while they remained on the show, nor smoke the inferior props on set.
Both Lehman and Clifton are proud of the roles Prisoner created for women. Clifton had already appeared on the show in other, minor roles before Margo Gaffney became her main gig. This is made more notable for the fact that she too was a nameless, if recurring, background character before she grew to a role with a name, relationships and a place in the hierarchy (more recently Clifton auditioned for a one-line role on Wentworth, which she didn't get, and was seemingly unknown to the casting agent, a fun fact that horrified the assembly of loyal fans). Lehman noted the influence of actors on the production of the series. She did her own fight choreography after the 'expert' that was brought in 'didn't last five minutes', so inexperienced was he in working with women. She also noted the time actors were invited to collaborate with the writers, resulting in Bea Smith's amnesia storyline. This was Lehman's brainchild, and afforded her the opportunity to explore her character pre-incarceration. More than anything, Lehman is more proud of the women's topics and issues the series explored, including domestic violence, and would perhaps agree that with "women mostly filling the range of roles and character types on offer in a given drama series, diverse characters and narratives can be explored" (Taylor, Dwyer, O'Meara and Batty 2019, forthcoming).
There were more surprises left for the already delighted audience, including a screening of a clip from Prisoner in Concert: another newly digitised offering from the NFSA, which treated us to a big screen rendition of Lehman, Clifton, Florance, Betty Bobbitt (Judy Bryant) and Colette Mann (Doreen Anderson/Burns) performing the 1978 disco hit YMCA. The Village People were themselves formed as a group to represent gay subcultures, so this number was fitting perhaps for the cast of a series also credited with being one of the first series to put queer characters on television (Turnbull 2017, p. 189).
As Turnbull has noted, Prisoner is "a melodramatic drama series that works on a number of different levels: as an entertainment featuring strong female characters who vie for power and control and as an insight into the lives of women who for one reason or another fall foul of the law and are rendered invisible in the process" (2017, p. 196). Or, as Lehman put it: "Bea was indomitable and always right: what's not to like?"
Prisoner was screened courtesy of Fremantle Australia.
---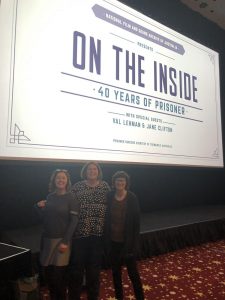 Drs Stayci Taylor, Tessa O'Dwyer and Radha O'Meara and Professor Craig Batty co-convened the 2018 Wentworth is the New Prisoner international conference in Melbourne, Australia. They are based at RMIT University, Monash University, University of Melbourne and University of Technology Sydney, respectively. Their edited collection, TV Transformations and Female Transgression: From Prisoner Cell Block H to Wentworth (Peter Lang), is forthcoming in 2020.
References:
Batty, C, O'Meara, R, Taylor, S and Dwyer, T 2019, 'Inside the Story: writing the powerful female world of Wentworth', The Conversation 11 July, accessed 15 July 2019.
Ford, J 2018, 'Wentworth is the New Prisoner Conference Report', CSTOnline 4 May, accessed 14 July 2019.
Taylor, S, Dwyer, T, O'Meara, R and Batty, C 2019, 'From the stony ground up: The unique affordances of the gaol as 'hub' for transgressive female representations in women-in-prison dramas' in The Palgrave Handbook of Incarceration in Popular Media, Harmes, M, Harmes, M and Harmes B (eds), Basingstoke and New York: Palgrave Macmillan (forthcoming)
Turnbull, S 2017 "Top Dogs and Other Freaks: Wentworth and the re-imagining of Prisoner Cell Block H in Television Antiheroines: Women behaving badly in crime and prison drama, Milly Buonanno (ed.) Chicago: Intellect and University of Chicago Press, pp. 181-198